About





The Basics
Name:
May
Age:
currently 18
Nationality:
Filipino <3
Status:
Taken <17
Love 'em:
black, red, purple, white, Anime, music [specifically alternative rock] , family, friends, t.v, ipod, pet birdies, weird people [not too weird n.n;], vampires, dragons, werewolves, movies, greek mythology, science, noob drama [haha HIGH-larious], corny pick-up lines [LOL]
Hate 'em:
the dark, spiders, Posers [in general], Beggars [ so dont ask. XP], Sluts [hehe. not you Alyss.], Sex pigs [specifically the male gender], Idiots
Not enough info? Get to know me&see what else you can find out.. X]
Friends
Viewing 12 of 133 friends
Journal
bOrDeM bLoG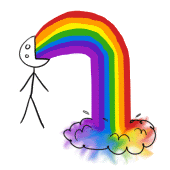 hmm.. this is pretty much what the title says it is.. basically i TYPE in this journal out of bordem. although, this journal may consist of very PRIVATE thoughts and feelings. so you are being WARNED.
Signature
Questing:

Donate?