About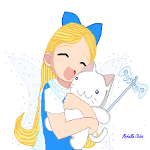 Hi! My name is Michelle Chiba and I'm an Artist who love drawing, Making things out of play-doh, knit potholders out of scrap yarn as well as scarves, make doll bases and modified games.
My favorites:
*Video Games(RPGs),My Little Pony (Old and New ones),Anime(not the Crappy 4kids Type THEY RUIN IT!! more like FUNimation and VIZ type.),Flowers,Animals (more like Cat-type lover)(this will explain why I have a Kiki it was given by a good friend of mine's) and guys w/long hair! (WATCH OUT VINCENT VALENTINE, SEPHIROTH, AND MAGUS!! I GOT MY EYE ON YOU!!)
My Favorite Charaters:
From Video Games:
*Cecil (FF4),Edgar(FF6),Cloud(FF7),Vivi(FF9),Yuna(FF10/FF10-2),Ashe(FF12),Lighting(FF13),Sara(FF13-2),Noel(FF13-2),Vincent Valentine(FF7,FF7
biggrin
oC),Ryu(ALL Breath of Fire Game (except BoF
biggrin
Q makes Ryu look like he's stupid.),Rei(BoF3),Cray(BoF4),Sanjuro(dot hack),Megaman(MegamanX,X-6),Zero(MegamanX,X-6),Ramza(FFtactics),Aya(Parite Eve),Benjimin(FFMQ),Janus(AKA MAGUS)(Chrono Trigger) and Ken Masters(Street Fighter)
From Anime:
Ranma(Ranma1/2)(the female part),Spike Spegail(Cowboy Bebop),Lelouch(code geass),Ichigo(bleach),Goku(DBZ),Vegeta(And his OVER 9000 DBZ type!),Mustung(FMA,FMA:BH),Vash(Trigun),Picolo(DBZ he acts like Janus ALOT!!),Yue(Card Captor Sakura),Mokona(Tsubasa Chronicles,MKRE),Serena(AKA Usagi (in english as Bunny)(Salior Moon),Roger Smith (Big O),Kato(Vocaloids),Gingka(BB:MF),Lena (Slayers),Vampire Hunter D(VHD,VHD:Bloodlust),Milliardo Peacecraft(Gundam Wing),Kenshin(Rurouni Kenshin),Zor(Robotech 2nd Season),Aubus(Ronin Warriors) and Ryo(Ronin Warriors)
My Favorite Cartoon Characters:
Fluttershy, Pinkie Pie(MLP: FiM), Megan(G1 MLP), Tom2,3(Toonami), Lucky, Cooler(Pound Puppies), Bugs Bunny (Looney Toons (not the new ones it's puts Bugs to shame.), Mickey Mouse, Tom & Jerry, Blossom(PPG/PPGZ), DeeDee(Dexter's Lab), Suzy(Johnny Bravo) and Jack (Samurai Jack)
If you want to be my Friend, you got to understand why I won't accept you at first. I had a lot of problems with some bullies on the site. this
entry
will explain it all.
I do accept:
*Newbies, People who love to talk about RPG games,Anime or Cartoons.
I don't accept:
*Cyber Bullies, Beggers, Scammers (one who Raise the MP prices for Questers!), Hackers or Trolls.
*WARNING* DO NOT GO INTO MY PROFILE AND PEEP THE CONTENTS IN THIS ACCOUNT. e_e
I have seen so many scammy websites relates to profile editors NOT funny. I will report you for harassment.
Also, don't go on my other friend's account,either...you get reported there by me or my friends.
*Also, Serious SIDE NOTE*:
I will not accept users by e-mail, IMs or text. let me know who you are or I will report you in.
ALSO, I WILL NOT ACCEPT A HACKER OR HACKER'S MULE OR A BOT! (you know I'm like Logan and I will Slash BOTS!!(or REPORT THEM IN!!)
If you have any questions about these rules or anything related to cyber bullying let me know.
THANKS,
Michelle Chiba.