About
But this is me! :
Tee Im bored at the moment so I am re-doing my about me!
I do disappear often and for long periods of time so if it happens I didn't die lol
Well the name's Kaitlynn! I have no specific music type I like, I like all kind's.
I have no life, I am mostly here so yah and most the time I am extremely
bored hahaha PM ME!! I dont bite much ;D hahaha
I do love to rp, I only just got back into doing it! Two years without it and yah
I have been here since '04, stupid ******** hacker's I'll murder you in you sleep!
I am a very nice person just stay on my good side! My evil side is my twin so just dont piss me off! Thank you haha
I love avi art, I guess you can tell I have a collection mwhahaha so draw me
twisted
I think I am ugly as hell but no one will agree I should just start a counter of how many people refuse to agree with me! XP
But yah I am a annoying person at times so if you annoying we may or may not get along because two annoying people just dont mix sometime's. It light kool-aid and oil ((your the oil)) J/K hahaha well yah
And Blah okay well that a little about me , I will change it from time to time so BYE!!!
My Dream Avi was completed with the Help of Head Injuries
Thank you very much!!!
New Dream Avi

I have a master now dun dun dunna lol
And he is: Mr Pyong
Me friends I love <3
Foxfire_Mika: Is my sister and will beat all and anyone's a**, I love her she is my twin she is angry and I am kind >3 but I love her she balances me out!
Shadow: Such a sweetheat! I love him to bits
biggrin
he makes me smile a lot and maybe I'll be his live in house wife
wink
and bake for him tee~
Raving : Awwww he is so awesome tee~ Me and him have gift fights tee and we are good friends irl lol, if anyone upset him I will royally kick their a** <3
Demon onii-chama: She is my lovely friend and she will be the god-mommy of me children <3 I wuv her and always want her to be happy
Hi Panda: Me little brother and I wuv him so damn much! He will always hold a special place in me heart forever <<<<33333
Aku-chama: Tee he is one of the coolest people I have every met! -hugs him- He is me bestie and I want avi art done with him <3
Leroy: Me other little brother he is aweeeeesssssoooooommmmmeeeee and I love his name! I miss him much!
Ice: He is a true gentleman and he is so much fun! I want avi art done with him to!! I wuv you in a friendly way <<<333
Magical: Awwww he is one of me bestie's he is like one of me favorites person's ever
biggrin
Anyone who gets to know me well will be put here!! But you have to be pretty damn special to be put here!
This is me and my friend Karleen!!
I look so Ugly!
This is me Lesbian Sammi!
We have been friends for 5 years and still goin strong!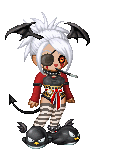 Total Value: 1,190,775 Gold
[Item Information]
Item List:
Suspenders
Nitemare Headband
Leather Collar with Cross
Elegant Blue Ribbon
Were Tail
Ancient Katana
Panda Slippers
Striped Stockings
Dark Halo

Take the Magic: The Gathering 'What Color Are You?' Quiz.


Journal
Thoughts, comments, and Questioning life
Questioning anything and everything or me just asking stupid questions in the hope of an answer :(
Multimedia
Signature

♥ Nope I dont like to make sense ♥
♥Dont like it??♥
♥Eat yourself!♥
heart I loves freebie art! heart
Gracing you since '04 <3