Kameron-Anemone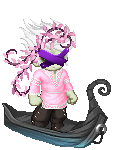 About
This is essentially a dead account. It will be stripped bare soon enough. ( 07/05/22 )

It's time for a fresh start, don't ya think?
Won't divulge where or how, but I know it'll be for the best. Perhaps, I won't be the same flaky, flighty, troll-ish, and toxic person?
<><><><><><><><><><><><><><><><><><><><><><><>
Ohmymongoose! It's my avi as a cool sprite... Thanks to reacheal.
Journal
Kameron`s big book of things...!
This is where I'll post anything, and everything that I feel like posting... From avatars, and pictures to whatever writing I feel like posting. Maybe even some videos, and links... Whatever, eh?