About
Total Value: 7,188 Gold
[Item Information]
Item List:
Blurry VOX Sneakers
Those Black 90s Pants
Black Wool Top
Outlaw Biker Shirt - Coal
MY DREAM BOY
Total Value: 5,595 Gold
[Item Information]
Item List:
Black Tuxedo Shoes
Those Black 90s Pants
Buttoned Down Feather Shirt 'n' Sweater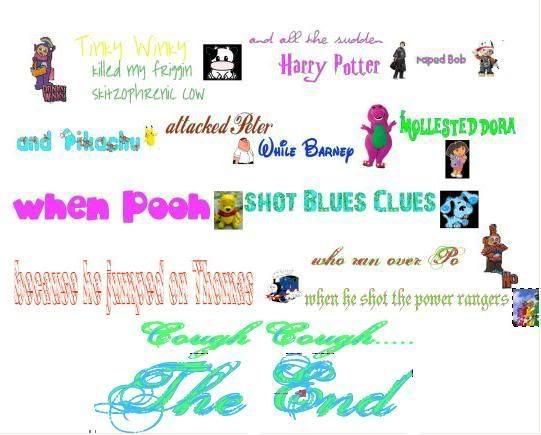 Take the Magic: The Gathering 'What Color Are You?' Quiz.
=
A girl and a guy were speeding over 100mph on a motorcycle. Girl: Slow down, i'm scared. Guy: No, this is fun. Girl: No it's not, please, it's scary. Guy: Then tell me you love me. Girl: I love you, slow down. Guy: Now give me a big hug *She gave him a big hug* Guy: Can you take my helmet off put it on yourself, It's really bothering me. The next day in the newspaper, a motorcycle crashed into a building due to brake failure. Two people were in the crash, but only one survived. The truth was that halfway down the road the guy realized that the breaks weren't working, but he didn't want the girl to know. Instead, he had her hug him and tell him she loves him one last time. Then he had her put his helmet on so that she would live, even if it meant that he would die. If you would do the same for the person you love, copy this in your profile<3
my friend told me to tell all of my friends this. If someone by the name of j_neutron07 wants to add you to their list don't accept it. Its a virus. Tell everyone on your list because if somebody on your list adds them you will get it too. It is a hard drive killer and a very horrible virus. Please pass on to everyone on your list. We need to find out who is using this accounts. Sorry for the inconvenience. Copy and paste this message to everyone on your list!!!!! PLEASE!!!!!!!!!! P.S. his other name is umakemefeelgood NOTE:this is important
i saw lenore and i went crazy
If i could be like that, I would give anything
JUst to live 1 day, in those shoes.
If i could be like that, waht would i do?
what would i do?
Im falling into this, in dreams we run away
Friends
Viewing 7 of 7 friends