DeviL Inside Joo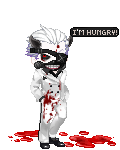 Details
Last Login

03/06/2021 12:50 am

Member Since

03/24/2007
Gender

Male

Birthday

03/23
---
Interests
Favorite Movies/Anime
Favorite TV Shows
Favorite Reads
Favorite Music/Bands
Hobbies/Interests
About
__Basics__

[x] Name: Dev
[x] Age: 6
[x] Gender: Male

__Likes__
[x] Anime.
[x] PC games

__Dislikes__

[x] Uncontrollable usage of vulgar words annoy me.


Add/PM:

[x] Requests are open.
[x] This does not mean I will accept requests from those I don't know.
[x] Don't beg. I will block you.

[x] Don't try to scam me. I am not dumb and I will not give you my password. Those who try will be added to my ignored list and reported to the proper gaian administration.

[x] Talk to me once in a while. If you aren't on my friends list anymore, chances are that's the reason. You haven't spoken to me in weeks.

Journal
Loved Donators
*~!~*~!~*
Loved Donators and Donations
*~!~*~!~*
These people are the best on donating so donate to em!
Signature