Cooro-sama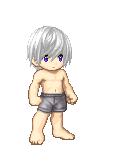 Details
Birthday

03/15
---
Interests
Favorite Movies/Anime
Favorite TV Shows
Favorite Reads
Favorite Music/Bands
Hobbies/Interests
About

I'm currently starting my second year of high school. My primary interests are in reading and playing MMO's~
I'm Asian, just putting that out there, and I wear glasses 8D
Story of my life.
Friends
Viewing 12 of 70 friends
Journal
O.o My Private Life (Well its not very private since ur reading it...) O.o
Its in THE TITLE!!!!