Candii_Courtney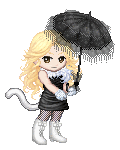 Details
Member Since

10/04/2008
Gender

Female

Birthday

04/26

Website
---
Interests
Favorite Reads
Hobbies/Interests
About
I love art, and i think that, to have a peice of blank space and to make it beautiful is wonderful.

My music tastes are odd, i'd listan to Dainish folk music all day if i could.
I love making up songs on my keyboard, and im always belting out random lyrics...i wish i had a recorder -____- I grew up with three older brothers, so i can be friends with just about anyone biggrin !

I find beauty in everything. I think everything is cute.

Live and let Die.
Friends
Viewing 2 of 2 friends

Journal
Theres a World in my Boot
T
h
i
s
i
s
M
y
L
i
f
e
I'm always sick like many others, and I always have a certain pain or another -.-
Signature
Damaged people are dangerous. They know they can survive.
— Josephine Hart