Name:Cotton Candy
Gender:Female
Type:Unicorn
Body:

Pink


Eyes:

Turquoise

, getting lighter towards the bottom.
Hair:

Cream

, with

pink

and

blue

streaks, like Twilight Sparkle. Wavy-ish hair style, like Fluttershy's almost.
Cutie Mark 8D:This
Brief Character Description:Candy is a lot like Pinkie Pie in many ways, she likes parties, makes sweets, and is always happy and unique. Candy is a bit less enthusiastic as Pinkie and is a unicorn, although she dreams of flying, but flying spells are too advanced for her.
+ Ref pics where possible:Hair style like this, but with streaks and different color.
A ref made by the ponymaker on DA: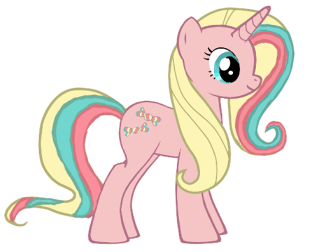 Fireflight: The reference is very helpful, thanks! All approved.
Yay! Thanks!