SECTION 1: BASIC INFO


Character Name: Crow
Character Gender: Identifies as male, but has no gender
Character Age: Appears 15
Race: Robot
Occupation: Self-Proclaimed Pirate
Protagonist or Antagonist?: Neutral
Alignment: Chaotic Good
Main or Minor?: Main
Description/Picture: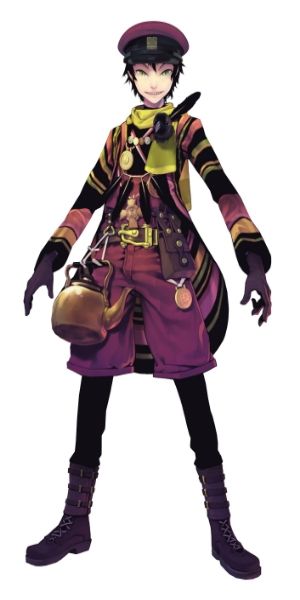 SECTION 2: ORIGINS


Canon: Fragile Dreams: Farewell Ruins of the Moon
Canon Point: After he shut down. He was reactivated by the lightning in the Volt's temple.
Means of Arrival: He fell through a vortex after Seto left, but has no recollection of this because he was technically dead when it happened.



SECTION 3: REPERTOIRE


Class: Swordsman, but can adapt to whatever weapon he's able to pick up
Fighting Style: He relies on his speed in battle.
Weapon(s):
Not yet available
Canon Skills/Magic:
Immense Speed: Crow is an incredibly fast individual. When fully charged, he's capable of moving so fast that he becomes a blur.
Enhanced Strength: Being a robot, he is a strong person. He's capable of easily stopping a speeding truck though he'll sustain damage from such an impact. This makes his punches and kicks extremely deadly.
Zeal Skills/Magic:
Not yet available



SECTION 4: PERSONAL DETAILS


Personality: Crow is a mischievous and curious lad. Though he's a decent thief, he learned that stealing isn't how friends are made. Because he's familiar to a post-apocalyptic world, he's unfamiliar with how a real society works, so many mannerisms may be lost on him. However, despite being a robot, he's fully capable of feeling things most humans do. This makes it possible for him to know how to show loyalty.
Favorite Food Type: Crow is unable to consume food and drinks.
Biography: Crow doesn't have a lot of memories of the past. He lost his memories a long time ago, and had searched for clues on who he was; all he had to go on was a picture of himself and an old man in a white lab coat. He got nowhere for awhile, though. One night, he was in an old amusement park when he met another human named Seto. He snatched Seto's locket and proceeded to have him chase him around to get it back. After a lot of chasing and a deadly fall into the Merry-Go-Round, he returned the locket to Seto and then sat down with him. He became quick friends with Seto, and after promising to see him again, he parted ways to continue his search. It was a while before he came across an old dam and began to feel worn down and tired. He had lost a lot of energy and collapsed in a room of discarded robots. It was then he remembered who--or, rather what, he was. Not long after, he was met by Seto again and withdrew their friend under the claim that he couldn't be his friend because he was a robot. However, Crow "died" with Seto telling him it didn't matter if he was a robot; he was still his best friend.
Other Notes:
- Tends to kiss people he sees as friends due to something he read in a book
- Has a fascination for shiny things
- Is a mild kleptomaniac
- Though he's capable of simulating such reactions based on what he's read and witnessed, Crow isn't actually able to feel pain or cry
- Relies on lightning-based attacks and electric bursts to recharge his battery, making him resistant to them
- Too much electric build up will result in a discharge that will harm anything around him
- If he goes too long without being charged, Crow will begin to shut down
- Due to the protective layer of "skin" over his electronic skeleton, he is mostly resistant to water
- If his skin is damaged and his skeleton becomes exposed, water-based attacks and liquids can cause him to short-circuit
- His electronic skeleton is equipped a self-repair function that repairs damage to his protective layer, circuits, and other parts of his body
- His self-repair function does not cover the reconstruction of lost parts, but can reattach them if the severed part is held in place during the process


SECTION 5: QUOTES


Victory - Alright!
Low Health - Ha....Think my batteries are running low.
Repeat Battle - You guys can't take a hint, can you?
Downed - It was...going so well, too.
Revived - Thanks, man!
Strong Enemy - This oughta be fun!
Weak Enemy - Boring. Why don't ya give me a real challenge?
Killing an Enemy - A win is a win!
Fleeing - Tally ho!