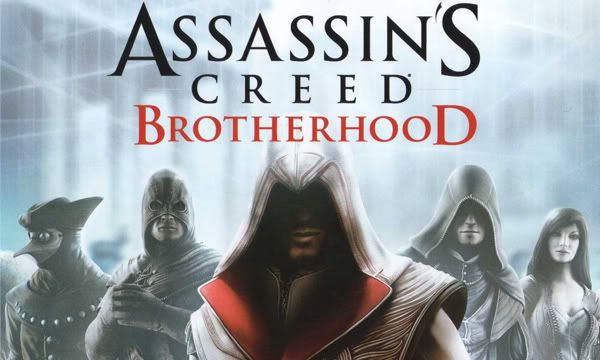 It is the late 15th century, during the Renaissance.
You are now an assassin getting ready to go into the animus 2.0. Your goal is to kill anyone in your path and get away with it. Enjoy using a fast travel station to go to places such as Venice, Florence, Tuscany, and many more including Acre. While you provide Leonardo with codex pages he provides you with new weapons such as a hidden blade, hidden gun, poison blade, swords, maces, axes, spears, halberds, short blades, throwing knives, and smoke bombs.
Make sure you can kill anyone without gaurds finding out. As long as you can kill without getting caught you will be fine.
I also want everyone who joins to know that I am not on all the time due to high school. So I will be on from 3:30pm to like 9:30pm on weekdays but i will be on whenever I can on the weekends. I will try to get on as much as I can and reply to your questions ASAP!!! If i do not get on Gaia during a weekday it is because I either have a poster, project, or homework. Or if I am not on late it is because i am out eating, shopping, or sleeping so I will be on most of the time.
I would also like to thank my Vice Captian for his help he has given me great ideas for the guild and cool outfts. I would like to thank him also he donated 29k to my guild I am grateful for him joining.
G E N E R A L
Assassin's Creed is a third person action-adventure video game developed by
Ubisoft Montreal and published by Ubisoft. The story takes place in September
2012, following Desmond Miles, a bartender kidnapped by a laboratory conducting
research into genetic memory. By the sessions conducted on Miles, the player
learns he is a descendant of Altaïr Ibn La-Ahad, a member of the "Assassin Clan"
in 1191, who played an active role in the Third Crusade against the Knights Templar.
D E S M O N D
A young bartender with an impressive heritage and back luck, Demond Miles finds
himself at the brunt of an experiment to explore his ancestry. Realistic -- perhaps
a tad pessimistic -- and for the most part laidback, Desmond confronts his past and
eventually starts to become it.
A N I M U S
A machine developed by the company Abstergo, the Animus hacks into a subject's
DNA to observe "genetic memory." Only recently discovered, "genetic memory"
would explain why animals have instincts, like migratory patterns and such. It is this
device that allows Desmond to relive the memories of his ancestors like Altair and the
newly-introduced Ezio.
T H E C R E E D
Do not harm the innocent.
Be discrete in your work.
Do not compromise the Brotherhood.




L I N K S




B A N N E R


----------------------------------------------------------------------------------------------------
Assassin's Creed II
Ubisoft website
Betrayed by the ruling families of Italy, a young man embarks upon an epic quest for vengeance. To eradicate corruption and restore his family's honor, he will study the secrets of an ancient Codex, written by Altair. To his allies, he will become a force for change – fighting for freedom and justice. To his enemies, he will become a dark knight – dedicated to the destruction of the tyrants abusing the people of Italy. His name is Ezio Auditore di Firenze. He is an Assassin.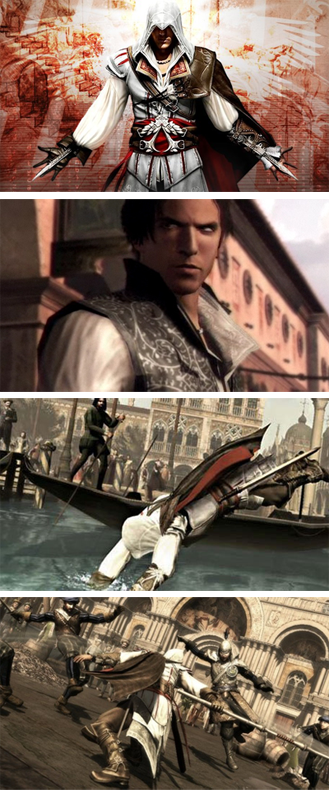 Information About the Game
• New Main Character – Ezio Auditore di Firenze, a young nobleman of Florence, Italy
• Ezio, like Altair, means "eagle," but in Italian.
• Unlike the seasoned Altair, Ezio does not start
off as an assassin; but rather, he learns as the game
progresses, leaving much more room for character development.
• He will have a menagerie of weapons at his disposal, including
two hidden blades, axes, spears, and even a hidden firearm. You can also disarm enemies and use their weapons against them. Each weapon will also have a unique special move.
• The game takes place during the Renaissance in Venice, Italy.
• You can swim!
• Historical figures include Machiavelli, Lorenzo de' Medici, Leonardo da Vinci, and Caterina Sofrza.
• da Vinci in particular will be the man you go to for new inventions,
such as his flying machine that will be used in the game.
• There is a new notoriety system that will determine how enemy soldiers
and people treat you.
• There are 16 unique mission types, and none of them are pickpocketing
or eavesdropping. Missions can even be combined to make more types.
For instance, an escort mission can turn into an assassination mission and then turn into an escape mission.
• Enemies will be more intelligent. For example, if you're hiding, halberd enemies will poke around with their weapon to see if you're there.
• You can assassinate from hay bales, but you'll be noticed.
• There is a night and day sequence!
• Hidden items such as flags, coins, and other things will actual pay off;
they will unlock bonuses, making it worth your time.
• The assassination of Medici will be featured in the game itself.
• If you are injured, you must seek the help of a street-side doctor to regain health.
• There is an economic system, allowing you to buy/upgrade weapons and other tools.
• There are various new ways to assassinate, and now you can assassinate
without using the hidden blades.
• Factions of people (including one headed by Machiavelli) will be there to help
you throughout the game. You can even hire people to distract guards or a number of different things.
• Desmond is indeed back!
• Release dates: USA = November 17th, 2009; UK = November 20th, 2009
• More info on the way! (I'm waiting to get my own copy of Game Informer)

Live and breathe as Ezio, a legendary Master Assassin, in his enduring struggle against the powerful Templar Order. He must journey into Italy's greatest city, Rome, center of power, greed and corruption to strike at the heart of the enemy.
Defeating the corrupt tyrants entrenched there will require not only strength, but leadership, as Ezio commands an entire Brotherhood who will rally to his side. Only by working together can the Assassins defeat their mortal enemies.
And for the first time, introducing a never-before-seen multiplayer layer that allows you to choose from a wide range of unique characters, each with their own signature weapons and assassination techniques, and match your skills against other players from around the world.
It's time to join the Brotherhood.
Features and Benefits
MASTER THE POSSIBILITIES – As Ezio, a legendary Master Assassin, experience over 15 hours of single-player gameplay set in the living, breathing, unpredictable city of Rome.
LEAD A LEGENDARY BROTHERHOOD – Recruit and train promising young Assassins. Deploy them across the city as you see fit, or call upon them to aid you in your quests.
EXPERIENCE A RICH HISTORICAL TAPESTRY – Collaborate with real historical characters such as Leonardo da Vinci, Niccolo Machiavelli and Caterina Sforza.
WIN THE HEART OF A CITY – Use your hard-won currency to revitalize the crumbling capital city. Rally the citizens to your cause and unlock extra factions and missions.
DEPLOY SECRET WEAPONS – Swiftly eliminate your enemies using tools such as poison darts, parachutes, double hidden blades, hidden guns, and an advanced flying machine at your disposal.
MEMORABLE MULTIPLAYER – Choose from multiple authentic character classes, each with their own signature weapons and killing moves. With richly-detailed maps and a wide variety of unique multiplayer modes, you'll never fight the same way twice.
Rules:
1. No swearing
2. Post whenever you can
3. Feel free to donate items they will be used to help the guild
4. Have Fun
5. Try to look like an assassin
6. In Forums only post about things that have to do with AC2
7. AC2 is fun game
8. Please post in the forums
9. You can give ideas to the guild
10. Have fun and whoever you assassinate do not let any gaurds find out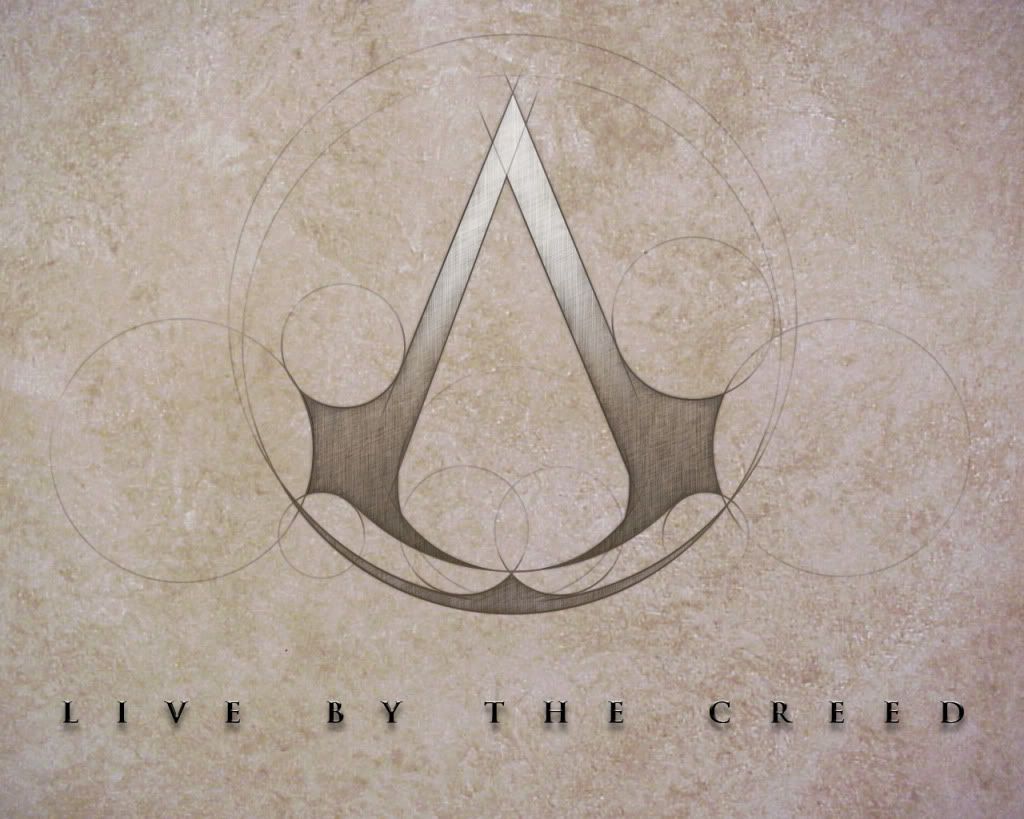 Outfits are not required, but if you want to look cool feel free to!
Altair Assassin Outfits:
Total Value: 389,599 Gold
[Item Information]
Item List:
Warm Starter Pirate Sash
Permafrost
Bullet Belts
Burned Apocaripped Boots
Brown Aero-D Pants
Short White Socks
Assassin's Guise
Assassin's Guise
White Traveller Undershirt
Black Cross Belts
White Cross Belts
Blade's Silver Chainmail Tunic
Archangel's Blade
Permafrost
Ezio Assassin Outfits:
Total Value: 1,205,465 Gold
[Item Information]
Item List:
Kelp o' th' Loch 3rd Gen.
Spirit Falcon
Holy Gauntlets
Archangel's Blade
Standard Issue Hunting Knife
Valiant Knight
Vice Admiral's Midnight Black Coat
Vice Admiral's Midnight Black Trousers
Vice Admiral's Midnight Black Boots
Silent Night
L33T Gamer
Enchanted Book 6th Gen.
Infernal Spirit 3rd Gen
Ezio Outfits:
Total Value: 10,415 Gold
[Item Information]
Item List:
Brown Leather Stiletto Boots
Skipper's Black Pants
Dapper Gent's Leather Brown Vest
White Class Shirt
White Zoot Suit Shirt
Desmond Miles Outfits:
Total Value: 2,007 Gold
[Item Information]
Item List:
Warm Hip Starter Sneakers
Cool Starter Rocker Guy Jeans
In Da Hood White Sweater
Leonardo Da Vinci:
Total Value: 224,694 Gold
[Item Information]
Item List:
Plumber's Belt
Egyptian Gold Bracelet
Egyptian Gold Bracelet
Jailer's Keys
Biancamella 6th Gen
Gold Mountain Uniform Pants
Christian Siriano's Ruffled Red Vest And Shirt
Rolled-Up Newspaper
Brown Musketeer Boots
Briar's Shot
Templar Knight Outfits:
Total Value: 8,487 Gold
[Item Information]
Item List:
Year One Soldier's Sword
Achromatic Apocaripped Boots
White Traveller Shawl
Blade's Silver Chainmail Tunic
Gray Traveller Undershirt
Gray Baseball Pants
Rooftop Gaurd Outfits:
Total Value: 108,519 Gold
[Item Information]
Item List:
Brown Aero-D Pants
Ardent Eloquent Boots
Ardent Eloquent Tunic
Brown Single Loop Tied Belt
Western Zodiac
Guard Outfits:
Total Value: 23,148 Gold
[Item Information]
Item List:
Ironcrusher Armor
Barton Regulars Helmet
Barton Regulars Boots
Barton Guard Gloves
Barton Regulars Armor
Doctor Outfits:
Total Value: 58,552 Gold
[Item Information]
Item List:
Black Giles Winter Coat
Black Class Shirt
Black Musketeer Boots
Those Black 90s Pants
Plague Doctor
Thief Outfits:
Total Value: 27,936 Gold
[Item Information]
Item List:
Rich Camp Stacks of Gold
Ardent Eloquent Boots
Brown CHOMP! Board Shorts
Blade's Brown Belt
Rawhide Vinyl Strap Top
Spartan Gloves
Peasant Outfits:
Total Value: 93 Gold
[Item Information]
Item List:
Bewitched Broom
Tan Peasant Booties - M
Tan Peasant's Pants
Tan Peasant's Shirt