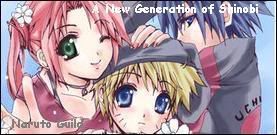 StoryLine:
Akatsuki has taken over 4 shinobi nations after a great war many shinobi died in the conflicts that resulted when akatsuki obtained 8 bijuu, then challanged naruto. He died durring the fight but his sacrifice was wasted as akatsuki finally won. There were so many devistating wars that took place using Pein's Kinjutsu that akatsuki took the surviving villages over with little effort. However a few Shinobi from various villages have survived and been forced to form an underground resistantce together. They are now hidden somewhere on one of the many islands within the country of waves/water, others fled north and dissapeared. kiri stands alone as the only free shinobi nation left in existance, it has formed a temporary peace with the Great shinobi nation (formerly: fire, lightning, wind, and rock) as it is now known.
Join Request



How many Naruto Eps have you seen?
Who Is your Favorite Char
How you found the guild
Why you want to join
Roleplay Sample.(1 paragraph)
Do you promise to be an active member?

-Rules
Stay active in the guild (its polite for everybody and keeps storyline alive.) be on at least 2 or three times a week.
Follow gaian TOS
Follow Guild Rules
be at least Semi litterate
Follow the join request lines otherwise i won't accept you or know why your joining.
-Respect myself and all of the mods and follow thier guidelines.
Affiliations

Roleplayers Domain
Please don't donate to the guild send all DONATIONS to blue_drake88