Sinful Elegy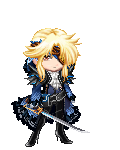 About

Age: 28
Hey, hi, hello.
I'm old as hell and random at that.
I like many things such as video games, anime, and manga.
Though I'm a wuss and am easily frightened; I have a love for zombies and other paranormal things that go bump in the night. ( Even if I do cover my eyes during a slasher. )
Educational stuff makes my brain tingle in its naughty spots.
I absolutely love medieval era stuff, astrology, as well as mythology.
And lastly, I don't always act my age...but when I do.... *Insert serious business face*

Journal
Adventures Into The Mind of A Puppet
Multimedia
Signature