About
(Great Place for the sickest art around...And thats a good thing)

"When everthing you do is wrong, label yourself evil and move on...it's alot easier that way."
VIDEO BELONGS TO ME. I TOOK THE TIME TO EDIT CLIPS AND PUT THE WHOLE THING TOGETHER, SO PLEASE DO NOT TAKE IT AS YOUR OWN OR IT WILL BE REMOVED FROM EMBEDDING ON YOUTUBE...ALONG WITH THE REST OF MY VIDEOS.Formally known as Kutebare~Kisama, Hanazono Shizuma, Alex_Makai and a few other names as well.

(Me and my gaia hun. Made by my gaia hun)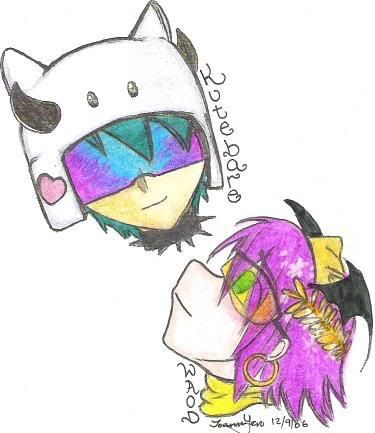 "White fires burn within my heart and force me to contend with the perils that await me at this tragic journey's end.
I have walked the roads that lead to Hell, I have challenged all but Fate. I have fought and bled and carried on just to reach this final gate. And now the task before me looms, this dire deed undone; I shall make my stand against the Three until the battle's won.
What fear or wound could ever still this last defiant cry, as I stand against the Shadow 'neath the endless burning sky?"
- C. Vincent Metzen
"For every secret left unveiled, for every power learned.
I'd sell the remmants of my soul, regardless how it burned.
And still I sought a higher wisdom few could have attained.
'Though I found it, it would leave me-broken, dammed and drained."
-C. Vincent Metzen
I'd give my soul to Lucifer anyday...At least I would not be dealing with a hypocrite.
(designed for me and me alone..DO NOT STEAL COPYWRITE OF CLOTHING)
Alas...Random images
Dream Avi #1

Item List:
#FF0000 Complex Pants M
Black Musketeer Boots
Crimson Red Pimpin' Cane
G Pin
Monocle
Nut Buster Uniform
Royal Cloak Red
Royal Crown Red
White Medical Gloves
yellow JACKsASSh
Estimated Total: 35,031 Gold, 507,500 Tickets
(Estimated with known item values on 10 December 2006)
Friends
Viewing 12 of 14 friends
Journal
Rapheals writing

Multimedia
Signature
Formally known as Kutebare~Kisama. I'm not a noob & have not been since May 04
Winged angel of death is mine...So back off!