Nekrocrafte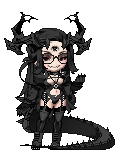 Details
Member Since

06/30/2006
Gender

Female

Birthday

10/08
---
Interests
About

I'm 22. I draw stuff.
Art Tumblr
Bears are my favorite animal.
I play games on PS4/3, WiiU, 3DS, or PC.
Bloodborne, Dark Souls/Demons Souls, Monster Hunter, Might and Magic VI/VII, Heroes of Might and Magic 3 are some of my favorites.
I'm a sucker for dudes built like bears.
Music I tend to listen to most is metal, be it atmospheric black, blackened folk, pure black, symphonic, melodic, death, doom, folk, blackgaze, or whatever else sounds good. Dungeon synth, celtic, dark ambient, martial industrial, neo-classical, j-pop, VGM and other things I like too.

Multimedia
Signature
v click for doodles v



Questing: fierce shadow virus / wishlist
Playing MH4U
PM's are cool.
[xxx]