About
And his name was Death…
do you know the meaning of insanity?
sup sucka lets see here my names is Lucas. im 20 years old my birthday is on may 27th and yea so im an old person now yay me =w=. lets see i don't date online not that any of you would wanna date me. hmmm what else what else oh yea i love music, movies and guilty pleasure anime i gots to have my bleach and soul eater>w<. i listen to almost anything if you cant tell by my playlist. and my pictures are at the bottom somewhere in that general area, direction thing place....i dunno. any other questions just ask ill answer......
maybe.=w=
lets see some things i like
-the joker-the cartoon version, i mean i like the heath ledger, but mark hamil just has the best voice for the joker.
-i like anime
-cupcakes(obviously)
one of my best friends on here in nedra, so yea words and s**t yo
"Do not go where the path may lead, go instead where there is no path and leave a trail." Ralph Waldo Emerson
invictus by William Ernest Henley
last stanza of the poem invictus
It matters not how strait the gate,
How charged with punishments the scroll,
I am the master of my fate:
I am the captain of my soul.
this is the best poem i have ever read
me
my best friend and i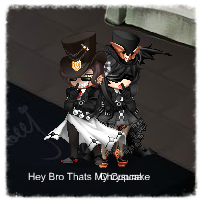 Signature
"If I had a world of my own, everything would be nonsense. Nothing would be what it is, because everything would be what it isn't. And contrary wise, what is, it wouldn't be. And what it wouldn't be, it would. You see?" -the mad hatter
do you know the meaning of insanity?