Etcetera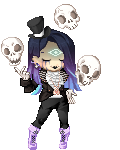 Details
Member Since

02/02/2004
Gender

Animal

Birthday

06/07/1988

Website
---
Interests
Favorite Movies/Anime
Favorite TV Shows
Favorite Reads
About
Hello!
I don't really do much on here any more.

I like to save up my gold to spend on art of my OCs and play dress up with my avatar.


If you stumble upon my profile somehow... hello! Forgive me for not being super social, I'm sure you are all lovely people.


Journal
Ramblings of the Obsessive-Compulsive
I rarely type here.
Signature