About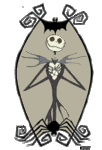 My favorite movie is The Nightmare Before Christmas, if you ever get any good pics or things PM me with them. I like to listen to music and I would draw more if I was better at it. I'm just some punk kid that authority figures hat and preps too. I don't understand why everything I say people laugh at. I am a drummer and am currently trying to learn how to play the guitar. I love coloring books, crayons, and colored pencils. Yes I am male. No one respects me at my school except for a few people who are my friends. LIFE IS A BEAUTY PAGEANT. It's so obvious.

Thanks for listening.


Friends
Viewing 1 of 1 friends

Journal
Standing In The Crossfire
A Journal of what's going on with me and things.
Signature
"It's like when you're a kid; the first time they tell you that the world's turning and you just can't believe it because everything looks like it's standing still. I can feel it..."
-The Doctor