Axle Greyson Archer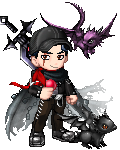 Last Login: 10/01/2014 6:29 pm
Registered: 12/21/2009
Gender: Male
Birthday: 07/27/1995
Equipped List
Interest Tags
Favorite TV Shows
Favorite Music/Bands
Hobbies/Interests
Wish List
About
I am an amiture writer of many styles. i post many of my works in the chatter box for people to judge. normally i write for about 30 minutes and i finish what i was doing. i am often looking for more to write about so if you have a subject then send me a friend request then pm me the subject and i will see what i can do.

i often get bored with everything lol. feel free to shoot me a pm and talk with me. i am interested in many things but not everything so just ask im am an honest person.
Signature
WHO WILL YOU CHOOSE???!!!!