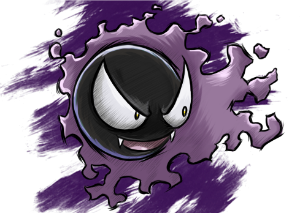 Having traveled all the way from the Orange Islands, this Gastly was sent by Raphiel to come deliver the invitation to those Trainers, Coordinators, Rangers, Elite Four, and Gym Leaders Raphiel believed were deserving of attending his exclusive, and all around unique Halloween Party. Every year, only the best of the best, and/or those with the brightest futures were sent an invitation, personally.

The Gastly slowly began to fade in in front of Willow Rayes with a wide grin, as an envelope floated in the air in front of Willow Rayes, just as the Gastly does. The envelope is closed off with a red wax stamp that was pressed with a rather ornate looking "R" on it. On it's other side, has the name "

Willow Rayes

" written on it in beautiful old fashioned cursive. Once opened, there is an antique looking paper, which when unfolded has the invitation written on it in the same cursive.

As Willow Rayes readies herself with her preparations, the Gastly seems to patiently wait until she is ready. Once Willow Rayes is ready, the Gastly will envelop the attendee, as well as what ever Pokemon they may have out, in it's purple gas, which now doesn't seem to be poisonous. The attendee(s) fade out, just as the Gastly appeared, and they are off into darkness. Within seconds, the darkness lights back up, and they are now standing at the bottom of stone steps that lead up to a massive beautiful white Victorian mansion. Up these stairs lead to a doorman, that upon getting to, the Gastly will nod, and fade out with the invitation as the Doorman opened the door. Now with the Gastly and invitation gone, it is clear that if you leave, there will be no way to return to the island.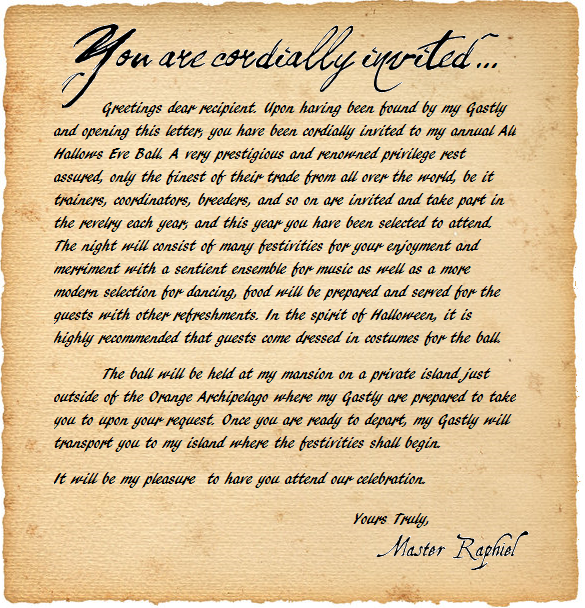 Reminder

:
-You are only allowed six out of party Pokemon, in addition to your active party.
-Please be mindful of all of the Pokemon you have out. Remember, Raphiel's staff have to clean up the next day, and they aren't the biggest fan of Pokemon.
-There are no wild Pokemon in or on his island (with the exception of event Pokemon)
-Unlike the fair, there is no bonus for posting for items. So please be mindful with your posts, and courteous to others, and don't spam posts out.
You are cordially invited...
Greetings dear recipient, upon being found by my Gastly, and opening this letter, you have been cordially invited to my annual All Hallows Eve Ball. A very prestigious and renowned privilege rest assured, only the finest in their trade from all over the world, be it Trainers, Coordinators, Breeders, and so on are invited and take part in the revelry each year,and this year you have been selected to attend. The night will be consist of many festivities for your enjoyment and merriment with a sentient ensemble for musics well as a more modern selection for dancing. Food will be prepared and served for the guests with other refreshments. In the spirit of Halloween, it is highly recommended that guests come dressed in costumes for the ball.

The ball will be held at my mansion on a private island just outside of the Orange Archipelago where my Gastly are prepared to take you upon your request. Once you are ready to depart, my Gastly will transport you to my island where the festivities shall begin.

It will be my pleasure to have you attend out celebration.
Yours Truly,
XXXXXXXXXXX
Master Raphiel