Zygona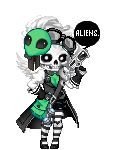 Details
---
Interests
Favorite Movies/Anime
Favorite TV Shows
Favorite Reads
Favorite Music/Bands
Hobbies/Interests
About
Well lets see here...
My name is Zygona but my friends just call me Zy.
I am 100% Grim Reaper. >D
If your wise you wont make me mad. Cuz I bite RAWR.
and thats all I feel like telling you gaia people.
I love art, if you would like to draw me please send me samples and prices!
Freebies are always loved XD

[Featured Avatar: January 13 - January 19, 2014]

Multimedia
Signature

Non Timetis Messor
I love Avi art!
REFERENCES