ZombieGirlN64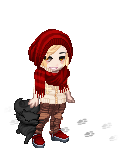 About
I'm a girl that loves gaming. I have a very terrible memory, so don't get upset about me forgetting something. I sometimes tend to sound rude, but I honestly don't mean it. I have problems talking to new people, meaning I'm shy, but if one of my friends is with me, I'll be more open. My humor and language can be somewhat cruel and inappropriate, so if you have a problem with that, well just deal with it.
I only speak English!! With a small exception of Spanish, but please don't even try Spanish with me
I do online schooling, and I usually leave my Gaia logged in.
yum_puddi
I'll treat you the same way you treat me
yum_puddi
I love music, though I prefer listening to Vocaloid, any of the oldies not this new crap, and any game soundtracks, like from Nier. I love drawing, but lately I've been lacking inspiration. I draw in an anime-esque way and tend to draw either gijinkas or my own versions of things. I have a Deviant account by the name ZombieGrl23. Most of the art of my profile is made up of photos of my pets, and most of my drawings are rough sketches.
I
heart
H
O
M
E
S
T
U
C
K
My favorite game series are The Legend of Zelda, Final Fantasy, Pokemon, Kingdom Hearts, and Mario. My favorite gaming console is the Nintendo 64. I do have a 3DS and if you want my FC, just PM me your FC and I'll send mine.
emotion_yatta
So far, SevenLegends is my real life friend, and CrazySoulEater and Rose_Dahlinge3e are close gaian friends
emotion_yatta
I, of course, left out many things, secret things, but you'll have to find them out! Got any questions? Just ask 'em!
Friends
Viewing 12 of 42 friends
Multimedia
Signature


3DS

Name: Brooke
FC: 1032-1429-4336
Pokemon X/Y Touch Trade Helper
Thieves will not be tolerated!