About
Welcome to my profile. Just leave a comment on here.
I like to play all kinds of games and I like to listen to rock music. My favorite movies would be Final Fantasy VII Advent, DOOM, Underworld 1 and 2, The Covent, And all of the Harry Potter movies. I like to draw anime. This is my dream avatars.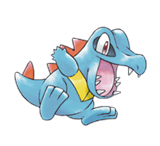 Oh yea Totodile is the best. XD
Friends
Viewing 12 of 185 friends
Journal
Zeke Anders Logbook
Multimedia
Signature
Darkness is nothing without Light.