Bow Down to Iris...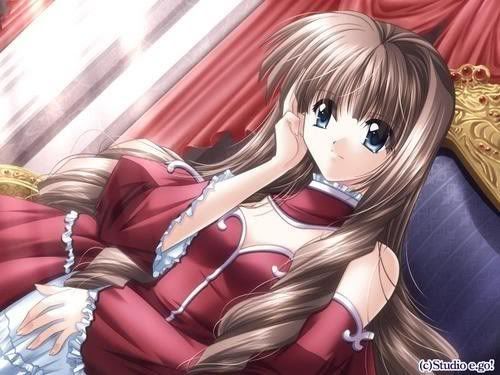 A country I live in... Is such a peaceful, beautiful place.. No hunger, for our farms are plentyful.. No crimes, for our country tries to stay pure in religion.. Happiness everywhere I look. I am proud to be the princess of this lovely country. For those who try to soil the purity this country has...

I show no mercy...
gaia_crown About me gaia_crown
Name: Iris
Age: 15
Hair color: Brown
Personality: quiet, VERY ladylike, kind, loving, shows no mercy to ones who want to soil her loving coutry, and loves her people, a quiet gentle soul

Her Country's Faire Tale
600 years ago, there was a little country, but with great power. This country was always in war and then the little country seemed to be at stake..When a magician from another small country in the seas (aka Japan x3) came to help this struggling country. She provided a sacred barrier all over the place. Now, the royal family and people were to make sure not to soil the barrier with sins, so the royal family put up more churches and mo things that'll be useful. The barrier's true power was passed down from each generation, but at random with the royal families. It could've been the king, queen, etc. But when the magician was about to die of old age, she became a humungous tree and was called the Tree of Life and represented the country. Her powers also supply the barrier. This barrier deflected evil and allowed people who were at least pure enough to go through for trade and such. Others weren't allowed in. But impurity could happen within thr country, and the royal family must give ones who attempt to soil it 3 weeks at prison at most. 600 years pass, and the greenery returned, farms could be used, religions were very strong ad pure. Now, the next generation of royal family.. The next who inherited the abilites was low and behold Iris. 40% was from royal family, 30% was from the tree of life, and 30% was from the people. Iris could not show impurity, so she'd have to pray often. The people have become so social and kind now... But who knows what evil lurks within thy world....
One beautiful day, Iris was at the front of her castle, adoring her kingdom, when a stranger introduced herself.. But.. The stranger was an assassin, who shot Iris. Now.. When the caretaker of the kingdom dies, the spiritual abilites are passed to the next generation.. But.. Instead of the abilities going back into the tree, it was sealed along with Iris's soul and disappeared.. The tree got sent somewhere.. The country died.. Their soliders were strong, but their strength wasn't enough.. The country Iris loved and was proud of.. Died out.. Rumors there were some survivors..
Many years later.. In modern day Tokyo.. A beautiful girl with long brown hair tied in a ponytail is Iris's reincarnation. The girl goes by the name of Marie.. And she may be the one to...