About
"If I lose the light of the sun, I will write by candlelight, moonlight, no light. If I lose paper and ink, I will write in blood on forgotten walls. I will write always. I will capture nights all over the world and bring them to you." ~ Henry Rollins (My favorite quote)
Yes. I am revising my profile information. AGAIN.
smile
I am me.
Me is named Tiana (Me is honored that the first Black Disney princess has her name).
Me is sixteen years old, I promise you (though it's flattering, enough with the questioning, I really am the age I say I am).
Me is mostly Black and lives in New York City. Me loves it here and has been here her whole life. She never wants to leave.
(Me realizes this is incorrect grammar and should really stop this.)
Me is addicted to writing, reading, the medical field and dry humor. She tries to remain individual with her writing, which isn't hard since she possesses an errant imagination.
Me is sarcastic and condescending. She hardly takes anything seriously, but you'd never know that from the look on her face.
Me loves children (babies!) and is easily annoyed by (anyone and) overly dramatic, whiny adolescents. Sadly, Me isn't nice to overly dramatic, whiny adolescents.
Me is an Aries and is mesmerized by the color cerulean (her favorite color) and by fire.
Me's favorite movie is Hard Candy, and her favorite candy is Swedish Fish. Me gets away with eating way too much junk food because she's tall and skinny.
Me listens to various kinds of music; progressive/alternative/pure-rock, classical compositions, reggae, techno, electronica, electro-shock. Me's favorite band is a tie between; Coheed and Cambria, and Nine Inch Nails. Her favorite composer is Mozart and her favorite singer is Amy Lee.
Me's favorite novel is "Lolita" by Vladimir Nabokov. Her favorite horror novel is "World War Z" by Max Brooks. She is horrified of zombies and all bugs.
Me loves her Pomeranian dog named Biggie.
Me's favorite poet is Pablo Neruda and she adores Henry Rollins.
Me has had a hard knock life and isn't afraid to say that letting yourself give up is a horrible, cowardly way out of things. There's too much beauty to disappear from the world.
Me is TEAM EDWARD. Jacob is very selfish and shouldn't have kissed Bella in Eclipse. Me doesn't like Bella. The girl is much too fickle.
Me loves her older brother (she has many older brothers) and is very, very close to him. She has been accused of incest (all in good fun).
Me dreams of becoming an ER trauma surgeon.
Me is (at the present time) neglecting most of her fanfictions because she's obsessed with her newest work of fiction, a secret (not so secret) story named "Vignettes". It will be published on fictionpress after it is finished. Sorry. I'm just not ready to share it yet.
The current song stuck in Me's head is "Sally's Song" by Amy Lee.
Me will probably change this profile information soon. She admits she has a problem.
wink
Yami- It means darkness, gloom, and despair in Japanese. My best friends gave me the name since I'm pessimistic and I write very dark stories and poems (I'm pretty cynical). Don't get me wrong, some ofmy stories have happy endings but I'm not the "look on the bright side" person. Anyway, I prefer to be called Yams and the name kinda stuck.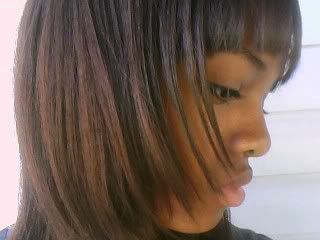 Yes. That is me.