About
Hey what's up?

Do you like Roleplaying? I know i do, and I guess Im literate, im not sure because, well...Im just not sure, I can do any kind of RP

Vampire/Human
Vampire/Vampire
Human/Human (obvious)
Pirate/Pirate
Pirate/Slave
Rich/Poor
Actor/Actress
Etc/Etc (?????)

Naw im just kidding about the etc part, but i tell you, sometimes im not literate if you dont have much information about the RP...
Just PM me about what kind of RP you like and maybe we can cooperate....(NOTE: Read my journal first if you have ideas, you can comment on it)

Ahhh Music... I practically like any kind...except country you know? but i prefer some of them...

I have a Ps2 and i have tons of games, when bored, I always play Guitar Hero 2(gonna buy all of the series when i get money)

And Gaia...Gaia IS Practically my life, meeting people, getting friends, meh...

Sports!!!!!!!!I like playing....

Basketball
Soccer
Baseball
Biking
Going outside
Fishing (sometimes)
Well, Just playing catch would be good i guess..

Manga, well i kinda read some like...

DNAngel
Prince Of Tennis
Naruto

Shows....Im practically a kid cause i still watch cartoons haha
But i hate being called a kid!! its so annoying i mean, seriously!!

Yayz, MY first sign!!!!


















If i talk and i laugh too hard...It's because I'm trying to forget that I'm sad...





Everyday people ask me "Are you two going out?" And you don't realize how painful it is to reply "No, we're just friends..."




What do you do when the only person who can make you stop crying is the one who made you cry....?





I know you wouldn't tell anyone if i died, for you...





Just how many people would freak out if i said "I love you...."





Pain doesn't hurt, when it's all you've ever felt...





I keep closing my eyes....But i can't block you out....





God, why do i have to be so sad.....????





Silly me, i guess i can't fix everything....





Finally....I just fell in love for the first time....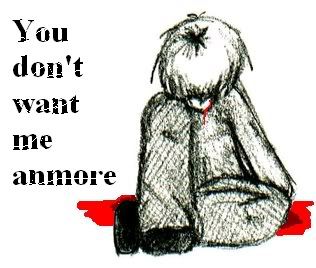 Friends
Viewing 12 of 14 friends
Journal
XxXKyoshi KoXxX's PrOmIsCuOuS
Emo...Im sorta....Emo....:P
Multimedia
Signature
My very first sign......Wow.......