About Me
Just call me Deadly. One of my passions in life is to read, Another is to write stories or poems for fun. I tend to go into what I call my beading trance and make jewelry from beads, since its a good cure for my depression. I love hanging out with my friends. I love listening to music like Disturbed or Fiver Finger Death Punch. I collect many knives from pocket knives to a hidden knife. I have several swords of different types and I add a new sword or knife to my collection ever few months. I am Pan-sexual so if that bugs you, dont talk to me, please. Dont Judge me by how I look, Judge me on Who I am as a person, a friend, a Fighter for what I believe in. So if you cant Judge me in those ways than Dont Judge me at all. And I won't judge you by how you look but who you are as a person. I am a active roleplayer. So if you want to rp with me just send me a pm and what rp you want to do.

My Gaia Family and friends are all over my Profile. Warning to those who think to mess with these awesome people who I care about. I will kick your asses than get into torturing you to make you regret it. So don't mess with me for my middle name is EVIL.
I walk the shadows of the night, Never to sleep a dreamless sleep, There I rest in my dream filled sleep till Dawn's first light.
There Are Worse Things Than Death. There Is ME.
Vive La Mort. Veri Olen Elid.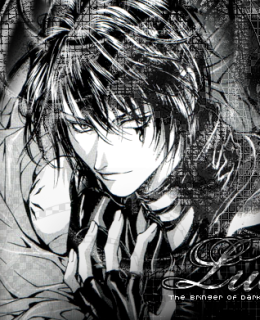 I Adopted a Devil.
Name: Grimshaw
Loves: His owner, darkness, hell
No Loves: heaven, light, goodness