About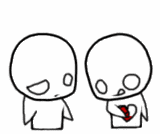 Me and my wonderful angel
Forget everything you've ever seen about my past. Everything you've ever read about my past boyfriends were lies. They were not the most wonderful or most amazing, or most adorable, or any of the other mosts. I don't know what deluded me into thinking that way about them. But the following is true:
Jordan Garrison. My current, and hopefully last onto much more, boyfriend is without a doubt the MOST of everything. MOST wonderful, MOST handsome, MOST amazing, FUNNIEST, SWEETEST, SILLIEST, MOST kindhearted, STRONGEST, and just all around MOSTEST boy I have ever known in my entire life. He means the entire world to me and I'd never do anything to hurt him. At least on purpose. I've hurt him before on accident and I never meant to. I hope he knows that I'm sorry for all the bad I've done. We have our problems, but what's important is that we're able to find the happy again. I met him back when I was a sophomore. We had Spanish II together. I've liked him ever since. He's liked me since before that. He's liked me since my freshman year, his sophomore year. I've liked him for forever but i never thought he would ever go for me. I'm so glad he did. I'm so glad he found me. He's my one, my only my missing puzzle piece. He's my soul mate. I really hope to spend the rest of my life with him. He's going to try to enlist in January to be a FMF Navy Corpsman. He's had a tough past and I'm proud of him for continuing to fight. He makes me the happiest i've ever been and anyone who has ever known me on gaia should be able to tell. He's the best thing that's ever happened to me and I love him with all my heart and soul and every fiber of my being.
I love you my Jordan Garrison. You are what holds me together. Without you there is no me.
And I mean every word.
Friends
Viewing 12 of 43 friends
Journal
My Cryptic Journal
Multimedia
Signature
~Yours in Eternity~
[img:8091cba068]http://i54.photobucket.com/albums/g90/Kaitou_Saiyuri/Kingdom Hearts/thrikuandsora2.png[/img:8091cba068]