About
DO THE PANDA!!!

SMILE DAMMIT!!! OR I SHALL WACK U WITH MY YAOI PADDLE!
=_=" then again some of u would love that wouldn't you?
This is me
biggrin
WITH MY PADDLE!!!
Which would you prefer???
Softcore Side???
OR HARDCORE SIDE???
-EVIL LAUGHTER-
This is me
biggrin



DONATIONS
Death Whisper-Donated by ChainsawDoom :3


ABOUT ME:
Name:

Emily


Age:

15


Birthday:

August 15 1993


Blood Type:

idk...?


Personality:

I'd say I'm funny, compassionate, somewhat understanding, protective, calm, go-with-the-flow, sociable (i try), very low maintenance. I can be a b***h though sometimes i will admit. I'm not what you call 'perfect' but I'm not like every other girl who think their s**t doesn't stink o.o (I think i just described myself as a hippie lmao niiiice)


Religion:

I'm Buddhist but i have Jewish blood (lol weird...)


MY FAVORITES
Favorite Movie: Edward Scissorhands and Hunchback of Notre Dame (ITS A GOOD MOVIE...I H8 YOU CRITICS > neutral ) The Breakfast Club, Sixteen Candles, & Weird Science
Favorite Anime/Manga:

Vampire Knight, Rosario Vampire, Vampire Doll, Hellsing (pretty much anything with vampires lol)


Favorite characters:

Alucard & Kaname Kuran (I H8 EDWARD!!!!)


Favorite Song:

the first song playing on my playlist right now (it'll change a lot lol)


Favorite Colors:

Anything dark and earth tone


Favorite Flower:

Rose and a Poppy :3


Favorite Interests:

Vampires and mythology also legends and etc etc etc


Favorite Genre of Music:

Mostly Rock or Alt Rock, sometimes pop/techno (depends if it sounds good to me)





FOAMY MOMENT
Now I'm PO bcuz some dumbshit decided to ridicule me for posting my emo drawing in the art arena bcuz it was too EMO! WTF?! the comment she posted said, "Go back to myspace, emo f**." -.-;; WTFH?! seriously, you're here to judge my ART not the ARTIST you JACKASS. You want to judge me than send me a frickin PM or comment or SOMETHING but don't post it in the arenas! >.> ARGH!!!


MY ART
this is my art page :3
http://vampyrerose.deviantart.com/
people who are hurt feel lonely...but their loved ones from the past are the wings comforting them although you can't see it...
they're there.
"Fraction of Truth"
By~ ME!
Someone smiling
Can sometimes be
Beguiling
Their kind eyes
Harbor many
Lies
Their loving words seem sincere
But their love itself is but unclear
-=-=-=-=-=-=-
"Impossible"
by~ ME!!
You say it is impossible
But what can be more plausible?
The fact I adore the grace
of The sweet smile upon your face
Where your eyes withhold pure bliss
More spellbinding than your kiss
Your rapturous heart of lust
Pounding amgonst the surface of my breast
If only for a brief moment
Could I feel content
I Would stare into your wondrous eyes
And ponder of what lies
Do you know what I have to bear
Seeing you here and there?
Those only first few lines
Were dreams that could never be mine
Let's face it, we're too old for pretend
So I'll put this to an end
-=-=-=-=-=-=-
QUOTES I LIVE BY:
Anger is like grasping onto a hot coal with the intent to throw it at someone; yet it is you who is burned.
Always forgive and forget but never forget to forgive
A diamond cannot be perfected without friction; nor man with trials
Hunger, hardship, and disappointment the unalterable law of life.
The way to love anything is to realize that it might be lost.
It is better to have love and lost then to not have loved at all.
Art is an effort to create beside the real world, a more human world.
Some people are so afrad to die that the never begin to live...
We must never forget that art is not a form of propaganda, it is a form of truth.
You are only what you are when no one is looking.
Music is said to be the speech of angels.
If you always do what you always did you will always get what you always got
Friends
Viewing 12 of 18 friends
Journal
Vampire's Evil Diary....enter if u dare....
Multimedia
Signature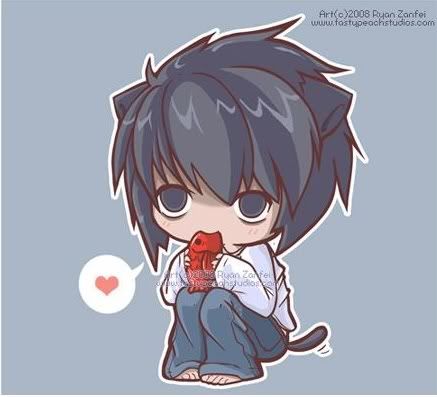 i adopted a chibi!

name: Ramin (rah-mean)

<3: Sweets and coffee, and his iPod

</3: CELLPHONES and diets! o.o

owner: xXVampire_RoseXx

you can adopt one too!

adopt me!