About
add add add =O
myspace-
http://myspace.com/198211640
msn - leahlovesyoumucho@hotmail.com
stickam username-punkrawk3rchick
i go on myspace and msn the most.
I dance randomly on stickam :] (come and dance with me?! )
My names Leah :] im 14. i'm taken.straight. and live in arizona.
im an addict to music, i play, write, and constantly listen to it all the time.
i listen to all kinds im not stuck with one label.im NOT ******** emo >.< or scene, leave it alone cause i don't label myself and i despise labels. im not THT big of a b***h though, as much as it may seem so in these about me things O.o
i love to meet new strangers though, they entertain me :]
so lets chat
mucho love,
leah
Draw me, i'll love you :]
Friends
Viewing 12 of 55 friends
Journal
The pathway between fantasy and reality
Thoughts from the girl that stands in the rain
My thoughts and my world
Multimedia
Signature
Lets Chat on messenger :] EmoBoysMakeMeGasm@hotmail.com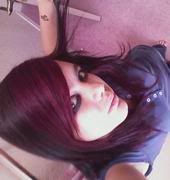 messages are NOT working right now! sorry.