About
A b o u t R i k a
My name is Rika Furude. I am the reincarnation of Oyashiro-Sama himself. I have an imaginary friend, Hanyuu Furude. She is the only one who sees me through all these worlds. I have other friends as well. Keiichi Maebara, Rena Ryuguu Mion Sonozaki, Shion Sonozaki, and Satoko Houjou is my best friend. I was friends with Satoshi Houjou before he was demoned away. I like with Satoko, and in every world, her and the others lose their memories and start their lives over, each going on a different slaughter spree. At the end of each world, I get killed by Miyo Takano, and she puts my body up by the shrine. Then Hinamizawa syndrome kicks in and everybody dies, even my friends. But Hanyuu and I reincarnate. We keep our memories throughout each world. But I manage to remain happy through all of this.
Well, most of the time
:] Nippah~!
B e h i n d T h e P i x e l s
The girl who made this account is figuratively dead. Do you want to know the "new" Amanda? PM AmandaaaMariie on here and I'll find a good medium to contact you by.
Signature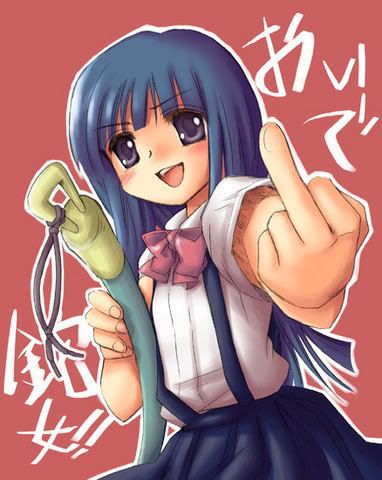 Nippah~!