About
Hia i love anime like bleach, inyasha,fruits basket,sakura card capture, ouran high school host club, chobits Death Note, and Samurai 7hana yori dang,naruto,. But mostly wolf's Rain. trust me the list goes o.,my real name is Sofia(= but only my close friends called me that and if you know hi Banelovers well he is my big bro i also like to play video games and stuff like The Legen Of Zelda twilight princess i like beat that so that me a superstar(meow)(= i LOVE TO drawl most of the time if I'm not on gaia i draw my own anima which it ok or that's what i say (don't hate me) i very emotion most the time if i want to bee i a little crazy because i have ADD and ADAH which i s ok with me.. that it so far owww and if you wanna tak let don't beg i give in sometime un less im mad. I Love to say whats on my mind so if i star telling you how my day was don't ask just listen OK.I love Mr. Miyazaki"s like Spirited Away, Howl's Moving Castle(my names is in it) and Princess Mononoke, also for the recoded i love yaoi.(=
i hate being normal and bow down to anima.
I'm crazy I'm cookie i altogether spooky i nice with rice i suck at this i loving but hatefully and always moody, my life is wonderful i value everything, video-games are 49% of my life Final Fantasy is bad a** and Kingdom hearts two .>,< MAdly in love with dirty music XD mainly Blood On The Dance Floor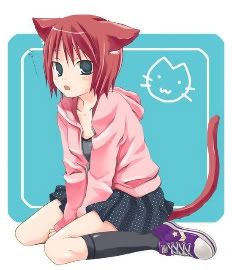 I just adopted a Neko!
Name: KIra
Likes: sweets, naps, baths and yaoi
Doesn't Like: bugs
Owner: me
You can adopt one too!
Adopt me!
http://www.facebook.com/photo.php?pid=36634&l=f2493be8bd&id=100001244957955
bang bang bang on the door baby XD