About
im 14 and 5'7. im not the greatest looker and i dont care because no one else will ever look as i do. so yea.
as you can probablly guess i am very honest.
i have a lot of emotion. but when you need it most i wont have any, im not gonna be sentimental im not gonna give a rats a** how you feel im gonna be the friend that you need, thats the one who tells you you need to get your s**t together.
hahaha thats the surface if you wanna go deeper stick around hahaha
thank you if you read all of that if you want know anything else just ask ok
follow me on twitter..https://twitter.com/mr_JosephReyna
i also have a facebook...
http://www.facebook.com/home.php?#/xXHatred.ReincarnateXx?ref=profile
this is me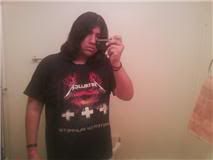 some extra info:
status: single
age: 15
b-day: 4/16/95
favorite color: purple and black
species: not sure hahahaha
favorite music: metal!!
most important people im my life: my sisters (sorry but i love my sisters more than i love myself hahahaha....ewww not like that)
favorite food: sandwiches hahahha
future career: detective, theriapist, videogame designer, counseler, or even a cook
anyway if u wanna know anything just comment or message me
Friends
Viewing 12 of 13 friends
Journal
inside of xXHatred_ReincarnateXx's head
somtime some of my short stories and maybe sometimes part of my book that i wrote
Multimedia
Signature
"live by fear die in vain, live by truth have no shame" - myself