About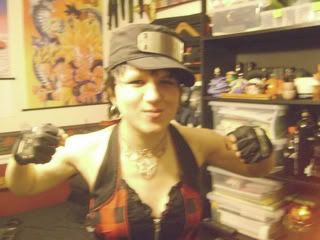 Name: Sabrina Barrett
Birthday: 4/20/89
Gender: Female
Status: Taken by a ninja!
Fave colors: red and black!!
myspace.com/teh_demented_pixi
ok! for starters i was conceived out of a threesome. my mom's husband didn't get my mom pregnant, it was the other guy. i was born on 4/20, how awesome is that? i was adopted. i got 2 siblings from my birth family and 7 siblings from my adopted family. i love music, rock and metal is what i like to jam to. i draw. i want to be an anime artist but i can only draw sexy women, yeah, its an enjoyable hobby. <--perv. i have a really dark, sick, twisted, demented, and dirty mind, i just keep it well hidden. i'm a mini skirt and boots type of girl. gotta love the boots! sometimes i can be deep, other times i can be a clutz. I'm a very laid back person and I hate drama.
Things Not To Say During Sex
*I have to poop
*Smile for the camera!
*Get off me, I'll do it myself!
*This is your first time...right?
*You're almost as good as my ex!
*When is this supposed to feel good?
*I thought YOU had the keys to the handcuffs!
*I was so horny tonight I would have take a sheep home
*Keep it down, my mother is a light sleeper
*Hey! My friends were right! You ARE good!
*On second thought, let's turn the lights off
*I'm sobering up and you're getting ugly!
*But everybody looks funny naked!
*Do I have to pay for this?
*No! You're too fat to be on top. You'd kill me!
*Actually, your sister "likes" it like this
*What's your name again?
*Hold on, let me change the channel
*It's nice to be in bed with someone I don't have to inflate
*Uhhh...I think the condom broke 10 minutes ago