About
biggrin

Everyone calls me one of the following: Gaara, Music God, Dove, or anything you can think of. My real name is reserved for people who are considered close to me. smile

Describe Me:

Collegiate. Cusp-baby; Virgo-Libra. Short. Skinny. Random. Cynical. Maniacal. Roleplayer. Gamer. Sarcastic. Musically Inclined. Mover. Shaker. Mold-breaker. Intelligent. Introverted. Paranoid. Psychotic. Sexuality? Atheist.

I am obsessed with music. It's what keeps me from doing stupid things in life. I probably have musical notes flowing through my veins. No joke. My favorite genres are: K-Pop, K-Rock, J-Rock, Visual Kei, Oshare Kei, Angura Kei, J-Pop, J-Trance, Soundtracks, Dance, Techno, Hard-House, Any of the sub-genres of the previous three, Hardstyle, Dubstep, Hip-Hop, Metal, Rock, Punk-rock, Alternative, Acoustic, K-Pop, C-Pop, Thai-Pop, and much more.

I'm considered unapproachable by a lot of people. But, that's only because I naturally dislike people. But, if we have something in common, then prease talk. Find something for us to discuss, and I can guarantee that I won't shut up.

I'm currently studying languages and history. I'm learning Japanese and Korean at the moment. So, if you want to converse and aid in my studies or whatever, then let me know and we can get right on it!

I also speak Al Bhed. Fluently. No joke. Try me.

じゃね!
Friends
Viewing 12 of 17 friends
Multimedia
Signature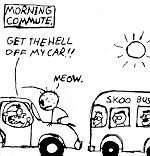 life's more amusing than we thought...