About
Hello my name is Brian, im 14, and i live in Lake Forest, CA, about 50 miles southeast of Los Angeles. I play video games, such as Rachet and Clank,Tony Hawk Series, Legend Of Zelda, Most Mario Games, and Wrestling Games. I watch WWE Raw and Smackdown, and i just recently started tunning in to TNA Impact. On Raw, Edge is my favorite wrestler, and on Smackdown, Batista. I also watch Adult Swim at night, such shows as Futurama, Family Guy, Robot Chicken, Aqua Teen Hunger Force,Boondocts and American Dad. I also watch the simpsons, which is my favorite show. I also love Rock Music, My Favorite bands are AFI, Queens Of The Stone Age and Rise Against. I like almost every other Rock/Alternative band out there. I dont care for Heavy Metal,Classic Rock,Rap,County,Techno(except Daft Punk) and any other ones i dont care for.
Myspace URL:http://www.myspace.com/b_r_i_a_n_a_r_d_i_t_o_
AOL Instant Messanger Screename: Skatepunk98789 & Edgehead542
Email Address: Stoneagerocka84@aim.com
and this is me!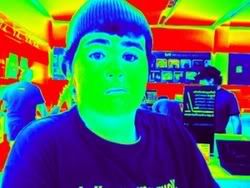 people who have donated to me
Vikingsprincess5-2000g
+The BJ Fairy+ - 200g
NoddaProbBob- 400g
hungryhomer-400g
Capt. Mary Read- 500g
SPAMMERS
~Dahrkan_gaara~ 1
donate to me, and ill add you to the list.