The Fair Princess Garnet Til Alexandros
I was actually born in the village of the summoners,my name was Sarah.A huge monster attacked the villag
e,everything was on fire and my real mother took me away in a little boat.All I can remember is the flames and see my home vanish,I woke up in Alexandria my mother died but I had lost my memory.The King and Queen Brahne found me,seeing I had a horn they took it off and renamed me after they're own daughter who died Garnet.
I grew up and for my sixteenth birthday my mother decided to invite the theater group Tantalus to put on a show.I was not amused,I left and changed my clothing running into Zidane on my way downstairs.I pushed pass him and he pursued me,Steiner also followed until we all got onto the Tantalus ship where I asked him to kidnap me.
Mother was furious and attacked the Tantalus ship,I had taken the royal pendant with me.We landed in the evil forest where a plant took me prisoner and poisoned me,but Zidane saved me but his friend Blank sacrificed himself to let us get out and gave us a map.From there our adventures took us to many places,including my old home where I had a relapse of memories.I also found out that mother and Kuja we're working together or rather he was using her for a pawn in his game.
Kuja killed my mother by turning Bahamut on her,I was upset but knew I had to continue my duties as the next heir.I cut my hair and our adventures continued,we met many people including Freya,Vivi,Armarant,Eiko and too many others to name.We followed Kuja to Terra,then confronted him for one final battle but in the end he really saved us giving his life in the end so we could escape.
Zidane stayed behind not wanting to leave his brother,I never saw him again until my coronation ceremony.Tantalus again performed and Zidane revealed himself,I ran down to him happy to be back in his arms.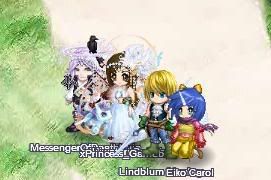 Kuja,Garnet,Zidane,Eiko
biggrin
Kuja,Garnet and Waltz #2