About
♫♫♫♫♫♫♫♫♫♫♫♫♫♫♫♫♫
Me likes milk. >.<
Spare time wheeee~!!
Never tasted tofu... V.V.
Oh yeah!
About me: ((Where to start.... Urrrr nothing very interesting so I'll say random stuff that pops into my little head))
Um... OK~!! Well, i'm a person... with a brain... I guess.... >.> (prolly a small one)
Not to mention, I have an attention span of a peanut!~ If that's possible...
I don't like when ppl mess with my friends!
((Because that's my job!!)) Just kidding...
I love:
puppies and kitties,
and also giraffes,
turtles,
monkeys and
rabbits.
Pretty much everything Animals X 1,000
I dislike:
~Bambi
~Twilight
~Ripping paper -ugg ._.'' -
~People ripping paper anyways. >...<
~People telling other people I hate the sound of ripping paper
~People laughing about it.
~People laughing about the fact I can't do anything about it...
I <3 <3 <3 Music... It rocks my life~~ And yar I am a religious kinda person. i guess, o.o if ppl ask me, so yeah I listen to that music too~ Sometimes.
So yeah, the point is to please never correct my grammar, I'll decide to fix it one day, when I decide all my other dreams are pointless. But for now, live on!!
♥♥♥♥♥♥♥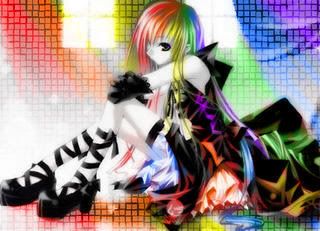 Look at the video I made...
http://www.youtube.com/watch?v=cFw1WQXXM9o
♫♫♫♫♫♫♫♫♫♫♫♫♫♫♫♫♫
♥♥♥♥♥♥♥

Take the Magic: The Gathering 'What Color Are You?' Quiz.
I took this quiz 2 times.... first i was white and the next two times were green... It keeps saying my enemies are black.... 0.0 Woah, beware!!!!
Journal
I don't know.....
Wheeeeeee~!
I'll do a description later... When i'm less lazy... (As in probrably never)
Multimedia
Signature

If I ask 'What's wrong with me?' You're supposed to say, 'Everything.' </3