About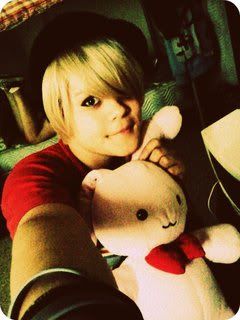 Hey-- Panda here, telling you to mind yer manners and don't let the door hit yer a** on the way out ;3 PM me for randomness or leave a comment~~
Okay, so I'm a Pansexual, artistic, highly-literate, loud, happy, sad, crazy, frugal, and maybe even a little bit of a disney-whore
heart
My ideals are a world without people who judge based on what I'm currently wearing that day.
I'm a bit of a brat, kind every other tuesday,bitchy when ignored, but I tend to avoid confrontation. My friends describe me as spacy, and weird, and energetic.(LOL NOT AT ALL)
I like anything and hate almost nothing. But many things annoy me, like people ignoring texts, people sitting right next to me at parties when I don't know them, and YES, even people who act like "God" made them special for everybody. You and I are just people. So, yeah, ******** you and the high-horse you rode in on, da?
I've been labeled as a Goth, Emo, Scene-chick, and even a punk. I may not believe in labels, but I consider myself a freakette. NO BATTERIES REQUIRED.
I enjoy writing poetry, singing, RPing, drawing and going to the CONS. Hellz yea, b***h.
3nodding
"I'm in love with myself,
so I don't feel any pain.
And I never seem to cry,
but thats only when it rains.
And they say I'm kind of pretty.
but I feel so goddamn plain.
How can someone choose to die,
and hope you'll feel the same?"
"Take time to remember me,
Won't be here for too long--
I never thought that I was free-
though I always sang our song.
Closer still to being mine--
Please do not forget today.
Better still I hope you're fine--
In death you do not lay."
USELESS INFORMATION
Favorite color(s): black, white, navy blue, red, and silver
Favorite food(s): sushi, tempura, calamari, funnel cake, chocolate, mint, lumpia, soi poa, bulgogi, pho ga, and gingerbread
Favorite day: Friday
Favorite Holiday: CHRISTMAS!!!
Hobbies: drawing, singing, reading, writing, RPing.
Favorite music Genre: rock, pop, j-pop, j-rock, techno, screamo, classic.
DISLIKES: sunny days, tomatoes, potatoes, celery, preps, posers, hypocrites, liars, flakes, ex-boyfriends, my mother, mondays, and people who try to tell me how to act.
Friends
Viewing 12 of 125 friends
Journal
They call me Ko
Well, what would you say if your life changed because of 1 change you made in life?
Multimedia
Signature