About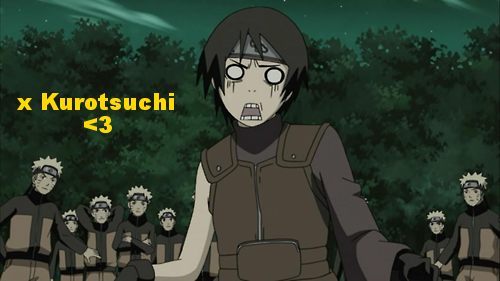 Kurotsuchi (Her name means Black Earth.) She is a Kunoichi from Iwagakure.
She is generally calm and easy-going. She has displayed a powerful loyalty to her village. It is shown that she does care for her comrades, as she was prepared to fight to avenge Akatsuchi after he was injured despite their constant arguments. Like her grandfather, Ōnoki, she is very audacious. She often sarcastically implies that because the Tsuchikage suffers from back pain he should be replaced by someone younger. She also has an immature side to her, which she hides, as seen when she reprimands Akatsuchi on his childish excitement about flying when they were heading towards the Island Turtle, though she was secretly excited about the prospect as well. Kurotsuchi has the utmost confidence in her skills, as seen when battling and capturing Kabuto.
Young Kurotsuchi witnessed Deidara flee from Iwagakure, shortly after he destroyed surrounding buildings. At the time, Deidara had already become part of Akatsuki.
Kurotsuchi is a highly capable kunoichi, having been chosen to guard the Third Tsuchikage during the Kage Summit, and the reinforcement of the Island Turtle. She can be quite deceptive in combat, as demonstrated when she told her team-mates that she would send Kabuto in their direction, only to have him jump in the other direction falling into her trap. She is also revealed to be skilled in kenjutsu as well as taijutsu defeating several of Naruto's shadow clones. She also displayed great evasiveness as well as sharp reflexes as seen against Ganryū and the other Kiri-nin under his command.
Kurotsuchi is capable of using three basic nature transformations. One is Earth Release which enables her to erect a protective rock dome that was sturdy enough to endure several tons of rock falling on it. She can also use Earth Release to unearth things underground. Kurotsuchi can combine the basic natures she can manipulate to create an advanced one. Combining Fire Release and Earth Release to create Lava Release, which in her case, creates quicklime. She can use Lava Release: Quicklime Congealing Technique to cause corrosive damage, and combine it with Water Release: Water Trumpet to increase its range and cause it to harden and trap the opponent.