About
Hihi, my name's Kala and Red Makes Me Feel Dangerous! C:
-It's not my favorite color though, haha.
-My cake day is Aug. 10
-I can be nice or mean it just depends on when you catch me!
-I'm talkative when I want to be.
-Without music, everything sucks monkey balls!
-I'm terrified of things that crawl, and losing all my love one, and being -alone forever, oh and of rubber ducks...don't ask.
-I could watch The Misadventure of Flapjack until I die! My other favorite shows are Degrassi, The Grim Adventures of Billy&Mandy, Camp Lazlo,Tosh.0, and Michael&Michael Have Issues. I have more but those a top.
-I love talking on the phone, saying "your mom", "your face", and "ORLY", listening to music, sleeping, playing PS3, laughing, texting, and basically just being me.
-Labels are for soup cans!
-My favorite phrase is "Mother FNC Nazi Unicorn"
-I play DDR like I breathe, ever since I got it that crazy day in Toys R Us, haha.
-I listen to almost every type of music, especially, pop-punk- rock, alternative, techno, screamo, and ummmm, crunk-rock/core!
-I wanna learn French so I'm taking the class for high school.
-I love the House Of Night books, and Cirque Du Freak
-People can never actually spell my name right, or pronounce it, which is kinda funny.
-I can't stay on topic for very long according to one of my friends, and another says I'm the virus that can't be stopped, haha (:
-If a person can make me laugh, they get an automatic A in my book :3
Ummm, if you wanna know anymore just ask away. C:
-

Kala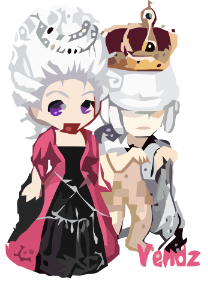 by: Vendz