About
Height: 6-foot-2
Weight: 227 pounds
From: Toronto, Ontario, Canada
Signature Move: Killswitch
Career Highlights: ECW Champion; Intercontinental Champion; World Tag Team Champion; Light Heavyweight Champion; Hardcore Champion; European Champion
Christian is smug, extremely confident and believes his very presence is a gift to sports-entertainment fans everywhere. Truth be told, he is a nine-time World Tag Team Champion and three-time Intercontinental Champion — and he won a championship in his very first WWE match. The date was Oct. 18, 1998 at the Judgment Day pay-per-view, where this long-haired, black-clad member of the faction known as the Brood beat Taka Michinoku for the Light Heavyweight Championship.
Not long after, Christian and Edge would form what would become one of the most successful and most outlandish tag teams in WWE history. Together they won the World Tag Team Championship on seven separate occasions. He'd later add two more tag championship reigns, once with Lance Storm and another with Chris Jericho.
The off-beat duo of "E & C" engineered some of WWE's most memorably absurd moments. Their egomaniacal "five-second pose" morphed into a "37-second pose" for the benefit of those with flash photography, and Christian never allowed a shot without his signature giant-framed, bug-eyed sunglasses. They signed autographs — then charged for them. They tormented hometown crowds with skits belittling their beloved sports teams. And they never passed up an opportunity to mess with a nearby authority figure.
Together, Edge and Christian were masters of the "Conchairto" — sandwiching an opponent's head between two steel chairs. The chair was their signature weapon; the Hardy Boyz were famous for flying off ladders; and the Dudleys were synonymous with tables. When the three clashed, TLC (Tables, Ladders and Chairs) was born.
No one can deny that Edge & Christian took part in many of WWE's most famous and dangerous tag-team matches, including the Ladder Match at WrestleMania 2000; Tables, Ladders and Chairs Match at SummerSlam 2000; TLC II at WrestleMania X-Seven; and TLC III on the May 24, 2001 episode of SmackDown!
Things were great for the duo until King of the Ring 2001, which Edge won thanks to assistance from his ally. Captain Charisma would obsess over Edge's trophy, often taking it from his hands mid-ring entrance and carrying it himself as if he were King.
In August at SummerSlam, Christian's slight jealousy turned to full-blown discontent after watching his partner win the Intercontinental Championship. Captain Charisma tried to respond in kind by challenging for the now-defunct European Championship. But when that match went awry, Christian snapped, marking the end of their most-successful allegiance.
Christian's first singles championship since his debut match came against his former partner at Unforgiven, where he took away the Intercontinental Championship. From there, the two would tangle in many memorable Intercontinental Championship matches, including a Ladder Match at No Mercy and a Steel Cage Match at Rebellion.
In addition, Christian won the Hardcore Championship at WrestleMania X8 and his second Intercontinental Championship at Judgment Day 2003, when he won a Battle Royal featuring all former Intercontinental Champions. The third time came against Booker T in August.
After a few years away from WWE, Christian returned during the Feb. 10, 2009 episode of ECW on SyFy, declaring his mission to ascend to the top of the Land of the Extreme. He accomplished that goal, winning the ECW Title from Jack Swagger.
After ECW paved the way for WWE NXT, Christian became one of the first WWE NXT Pros and also made the move to Monday Night Raw.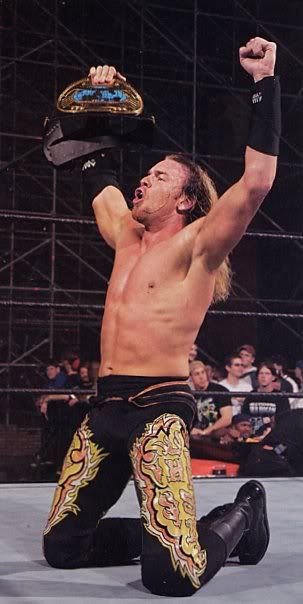 Multimedia
Signature

"Were are my PEEPS"
2-0