What I wanna say
********, this is awful. Sooo, the only thing I update is my age on here. The rest is just crap from years ago. I want to change it, but it is so epically cringe-worthy that I cannot bring myself to do it.




Call me Nez


Hey I'm an old fart (23). I never talk to anyone, so expect s**t to get real awkward. I swear like a ******** sailor. I like dinosaurs, comedies, and flamingos. When I grow up I wanna be Patrick Stewart.

Butterflies scare the ginger snaps outta me.
/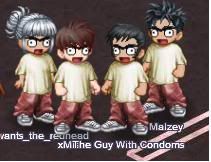 Screenie
You want to make me a sign telling the world how sexy I am. Trust me. You just do.
Army boy sign <3
First Sign
Julie sign <3
Fan sign
<3
Avi Arts
biggrin
Chibi Cute
Chibi Sexy
Wicked Cool