About
Love is patient and kind; love does not envy or boast; it is not arrogant or rude. It does not insist on its own way; it is not irritable or resentful; it does not rejoice at wrongdoing, but rejoices with the truth. Love bears all things, believes all things, hopes all things, endures all things.
~ ~ ~ ~ ~ ~ ~ ~

Can miles truly separate you from friends... If you want to be with someone you love, aren't you already there?
~Richard Bach

~ ~ ~ ~ ~ ~ ~ ~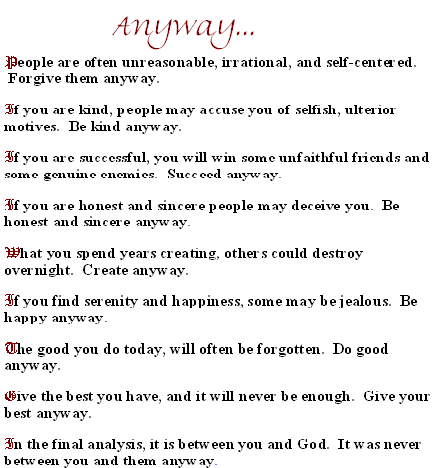 Love isn't just an emotion to feel. It is a decision you make, in the way you interact with others. To truly love someone means you're going to hurt sometimes. Love anyway, its more than worth it.
~ ~ ~ ~~~~~~~~~~ ~ ~ ~ ~
Ashni
xd
Your Normalcy Quotient is: 17 out of 100.

Your quiz results make you a Marvelous Maverick

Giddy-up partner. You're a maverick and don't know what the definition of normal is. That's a-okay because you're now part of a fascinating group of desperadoes. Wherever you ride, it's sure to be off the beaten path because it's way more fun to find the path least traveled.

The best RP characters ever. Xavier and Velo, just after their wedding.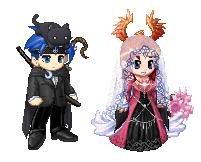 The video is from a fun anime, and yet I chose it mostly for the song. In my mind that song is Xavier and Velouria's song. I've had such fun playing Velouria Dragoon and watching her come to life.
Friends
Viewing 12 of 49 friends
Journal
Velo's musings
If you're reading this, you might be very bored. You also may be disappointed, as I am only going to type in here on occasion. However, if you're reading this, you're welcome here. Please feel free to comment, it is very welcome. Some of the things here are Velouria's thoughts more than mine. If you're not sure which entries are in and out of charachter, and you want to know then ask. I rp Velo at
Blademasters Tavern and Inn.
Stop by and say hi to her.
Multimedia
Signature