About

http://www.musicplaylist.net/mc/mp3player-othersite.swf?config=http://www.musicplaylist.net/mc/config/config_black_shuffle.xml&mywidth=195&myheight=190&playlist_url=http://www.musicplaylist.net/loadplaylist.php?playlist=46441658 - my playlist.
var‧i‧ant  [vair-ee-uhnt] Pronunciation Key - Show IPA Pronunciation
–adjective
1. tending to change or alter; exhibiting variety or diversity; varying: variant shades of color.
2. not agreeing or conforming; differing, esp. from something of the same general kind.
3. not definitive, as a version of part of a text; different; alternative: a variant reading.
4. not universally accepted.
–noun
5. a person or thing that varies.
6. a different spelling, pronunciation, or form of the same word: "Vehemency" is a variant of "vehemence."
My Music
:
Interpol, Basement Jaxx, Chamillionaire, Ciara, The Cardigans, Daft Punk, Dashboard Confessional, Eminem, Fat Boy Slim, DMX, Fort Minor, Linkin Park, The Fray, Groove Armada, Gnarls Barkley, HelloGoodbye, Jay-Z, Jet, Justin Timberlake, SUGARCULT, The Killers, Kanye West ( His head is WAY too big ), Lostprophets, Smile Empty Soul, The Servant, Second Sun, Under the Influence of Giants, My Chemical Romance, Gorillaz, System of a Down, Three Days Grace, Jimmy Eat World, Coldplay, Matchbox 20, P.O.D.,
Fans: 5
Boys: Hibiscus Nosletum
Girls: divashadow1 - Kaida_himura - [.jacklyn.] - KuraiYuuki
- the legend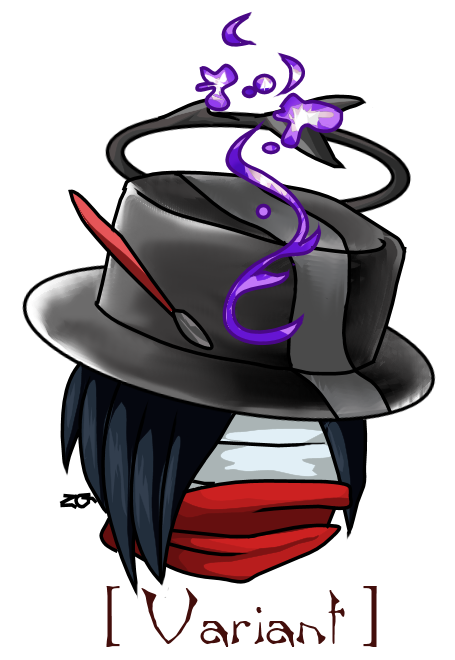 - By SapphireLazuli <3
Friends
Viewing 12 of 102 friends
Journal
Wow, Stuff.
[ Variant ] is back!
This is my journal about Stuff.
Multimedia