About

haha theres me, jorrdy!

I was fixing my septum ring hahahaha
I love pokemon and ZOMBIES!!!!
wanna know more GO TOP MY MYSPACE!!!!!
RPC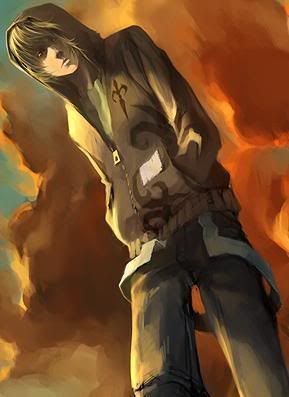 RP name:
Vak
Gender:
Male
Race:
Vampire/unknown
Bio:
No memories of his child hood, the only thing he remembers is being in labs and alot of combat training. Full memories begin with him working for a man who paid vaketo to be a bounty hunter, he has taken many lifes. Now a calmer path of life, he seeks friends and companions. Over his years he has masted the art of stealth and the "flying tech" or easily put as very high jumping. He knows no magic. Was turned into a vampire withing the last 6 months.
Weapons
Souba(a dual bladed katana) and Throwing Daggers.
Appearance:
Right now wearing a white winter jacket, with the hood up most of the time to hide his vampire features. His skin as white as snow, a tiny boy, you could see most of his bones. All of his muscles lay in his legs and arms. He wore jeans and your average pair of shoes. His right arm was completely bandaged underneath his jacket. Each of his limbs had a tattoo of 0's and 1's, no one knows why.
Family/Partners
Brother:
Vampy Doodle
Partner/Close Friend:
Ryuusag
PM me if your interested
Total Value: 177,571 Gold
After Exclusions: 86,101 Gold
[Item Information]
Item List:
Music Note Mood Bubble
Fat Lace Sneakers Fuzzy Green
Natural Jade Oblong Beads
Gift of the Gods
Dashing Gentleman Emerald Tie
Dashing Gentleman Emerald Sash
Western Zodiac
HIPster Green Tint Shades
Those 70s White Pants
#FFFFFF Complex Shirt M
Summoning Tome
Gift of the Goddess
Grunny
Lucky 4Leaf Clover
4 Leaf Clover Pin
Fresh Grass Skirt
Black Leather Belt
Elven Ears (Tone F)
Sacred Leaf
Friends
Viewing 12 of 12 friends
Journal
Vaketo's Journal
My Life... IRL ... I Will Write About Every Day When I Can ....
Multimedia
Signature


Yeah, Im real.



RPC in Profile