About
~Ed~
Your Angst-Ridden Devil
is Deviously Annoying
is Male
is a Roleplayer
has 393 gold
is located in United States
is online
is currently: stare
is an AIM user; kasugaisdead
is an MSN Messenger user; Kasugaisdead@hotmail.com
is a Yahoo Messenger user; kasugakyonuske
desktop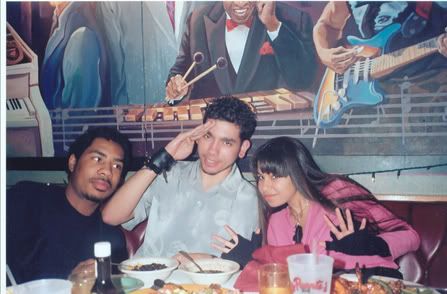 DATA
Height: 5'9
Weight: 185
Bloodtype: A

MORE

Ed tends to be rather grumpy and bad tempered, probably because his actions attract a lot of trouble from people around him, and he tends to be very blunt when speaking. He does seem to get on pretty well with his friends and guildmates though (they do tolerate him after all...), and is friends with Chris(Maximos), Bren(Nighthunter), Steve(Silver) and B'(Kraun). He's also known most of the people here since they each first joined Gaia; does not have a girlfriend- but has plenty of exes (as if that's something to be proud of).
Current Age: 20
Current Residence: NYC
Interests: Donuts, Talking To Myself, Slim Fitting Shirts And Jeans, Being Alone, Cats.
Persona: Number 1 a*****e|Strong quiet-type.
Righty, lefty or ambidextrous: Its my sword hand!
Zodiac Sign: Leo
Favourite movie: Drunken Master
Favourite band or musician: Miyavi
Favourite genre of music: Alternative modern rock.
Favourite artist: Nick & Alex
Favourite poet or writer: Jayne
Favourite photographer: Behr
Favourite style or digital art: Sketches.
Operating System: Windows XP
MP3 player of choice: iTunes
Shell of choice: Flame Champion from Suikoden III
Wallpaper of choice: Kurosaki Ichigo (BanKai) vs Wichigo (BanKai)
Skin of choice: N/A
Favourite game: Xenogears
Favourite gaming platform: PS2
Favourite cartoon character: Wolverine
Personal Quote: Um....
Tools of the Trade: My Eyes. My Hands. My Heart. My Angel.