about me!
i love martial arts, and i'm joining the marines in 2 years.
first name--Damien
last name--who cares
age--16
state--california
town--small
color eyes--hazel
interests-- Marines, guns, knives
what i look like--LOOK AT THE PICTURES
favorite color--too many to choose from
favorite bands--listen to my playlist
wants to be-- a United States Marine
Is--2nd degree black belt in Tang Soo Do
favorite foods-- chinese food
dislikes--ex-girlfriends, friends that date my ex-girlfriends, salad
wants to visit--germany, korea
language--english, a little korean
favorite sports--football
single-yes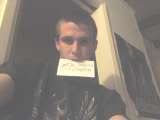 ME!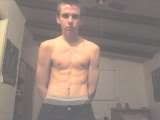 AGAIN ME
[
THIS PROFILE HAS BEEN HACKED BY 3R1N! AKA HIS MAMA THIS IS MY LITTLE BOY AND IF YOU MESS WIFF MY LITTLE BOY YOU MESSIN WIFF ME AND YOU DON'T WANNA SO THAT SH1T CAUSE ILL HURT YOU AND THATS NOT A THREAT ITS A FU*K1NG PR0MIS3 M0MMY L0V3Z Y0U BABY BO1