About
First things first, my computer is broken and Im currently using a school computer, thats why im not replying to anyone, still talk to me though, i just wont be active until I get MY computer.

I'm
Chelsey Catacomb
, a name so generously given to me by Glitz Cicatrix. Oh how I love her.

I like a lot of things, like
makeup
, sparkles, goggles and Harry Potter. But my number one is art. Thats all I do. My highschool art teacher drilled art into our brains and never took out the screw.
My hair is currently
Pink and Blue
. My hair is always
FIERCE
. I dye it like I change my clothes, one day it will all fall out and Ill wear a wig.

PARTY MONSTER
Owns my soul. I'll see you in New York, Betch. Hopefully Ill go to Pratt or something.
Disco Blood Bath
is the most amazing book in the world. I Idolize people like
James St James, Michael Alig, Amanda Lepore, Marilyn Manson, Geoffrey Paris, Jeffree Star, and anyone who has at least an ounce of creativeity in their personality.
Art is the most intense mode of individualism that the world has known.
-Oscar Wilde
Last but not least
My Chemical Romance
Is the best band in the world, according to me.
I love them. they have helped me through a lot and they just keep getting better and better.
But what I like most about them is how artsy they have gotten. =D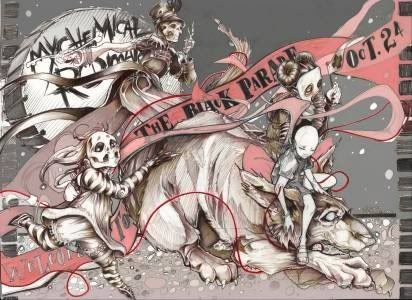 Friends
Viewing 12 of 77 friends
Multimedia
Signature