About
'::'Mood'::'
Fine.


'::'The Real Me'::'
~I am 15
~My birthday is July 2
~I go to Archbishop Hoban High School
~I'm a sophomore
~I have one brother
~I have two dogs
~I have 2 skinks(lizards)
~I have one fish
~I live in Ohio
~I love my friends


'::'Likes::'
~School(kindda)
~Pokemon
~Death Note(NEAR)
~Computers
~Friends
~Food
~Anime
~Green Stuff
~Harvest Moon
~Kingdom Hearts(ROXAS)
~Cartoons
~TV
~Manga
~You Tube
~Tsubasa(MOKONA)
~Shaman King
~Maximum Ride
~Theater
~Organization XIII
~Air Gear
~Cons
~Caramelldansen
~Ouran!(HUNNY)
~And Many More


'::'Dislikes'::'
~Pork(does not include Ham)
~Mean People
~Rude People(even thought I'm one)
~Posers
~Br. Jim
~Rocks(unless I'm thowing them at people)
~Black Chinese Ginger Jews
~First Day n00bs that beg for money and never come back
~The Hoban Administration
~Veal
~And Many More


'::'Obsesions'::'
Game: Harvest Moon Tree of Tranquility
Show: Flapjack
Anime: Ouran High School Host Club
Manga: D. Gray-Man
Book: Charlie Bone
Retro Thing: Pokemon
Movie: Spirited Away
Song: Yes Dance
Play: Its All In The Toner


'::'I am...'::'
~Near(Death Note)
~Roxas(Kingdom Hearts)
~Hunny Senpai(OHHC)
~Allen Walker (D. Gray-Man)


'::'Quizzes/Tests'::'



You are an Innocent Uke!
Cute and sweet, and most gentle of all uke, whips and chains are not for you - you just want someone to love you. You are often spotted in candy shops wearing furry kitty ears, where you are sure to be noticed by the Romantic Seme, whose protective instincts will kick in and will only want to take you home and love and protect you. And you, of course, will be more than happy to spend the rest of your life baking cookies for your seme.
Most compatible with: Romantic Seme
Least compatible with: Sadistic Seme, Don't ******** With Me Seme
What seme or uke are you? Take the experience at SemeUke.com, or find merchandise here.


'::'Hackers'::'


Hey hey! Near-Roxas has just been hacked by Chocolate Parakeet!
hahahaha
I

love

hate this kid so much.
But nah. We get along ok. (most of the time....)
I mean, he's fun until he starts destroying jet-planes, and being all albino paraplegic-ish, and shifty eyesing things up
but you know
it's happy happy most of the time.
right froggy?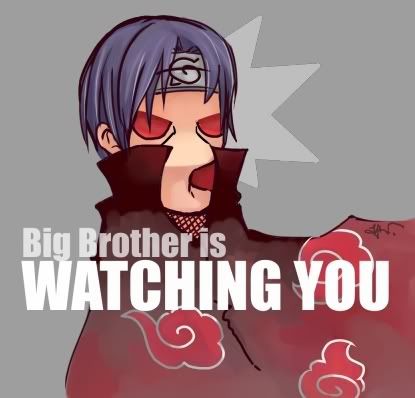 Woot!
Ninjavampirate has now hacked Near-Roxas!
Near, you are well defended by Dei-chan so there is no way that I may attempt to torture you. (For now)
Anyways, enjoy the pic because I am watching and I shall always be watching.
Probably out in the cold winter air being unaffected by it.
(What can I say? I just don't get cold!)
Ah hacking is oh so fun.
Well for those of you who do not know Near is defended by the three of us who like to watch him walk away.
So if you mess with that, you aren't likely to live.
(See hack above.)
Bye Near!
Friends
Viewing 12 of 37 friends
Journal
'::'Near-Roxas's PWNsome Journal'::'
'::'Near-Roxas's Journal'::'
Hey I'm Nick. This is my journal. I don't know what kindda things I'm gonna write in here. But it should be interesting. lol. Well anyway have fun reading.
Multimedia